Light-emitting diode or LED strip lights are a cost-effective and aesthetic option for illuminating our homes. They are easy to attach and provide a great ambiance, both indoors and outdoors. What's more, is they are usually very accessible too and come with kits that allow you to change colors and operate them through a remote and not a switch. LED strip lights are becoming a popular choice because of their softness, flexibility, and durability of these lights. You can transform the entire vibe with LED lights for rooms. Scroll down to see some creative LED strip lights placement ideas according to your mood.
Wall art with led lights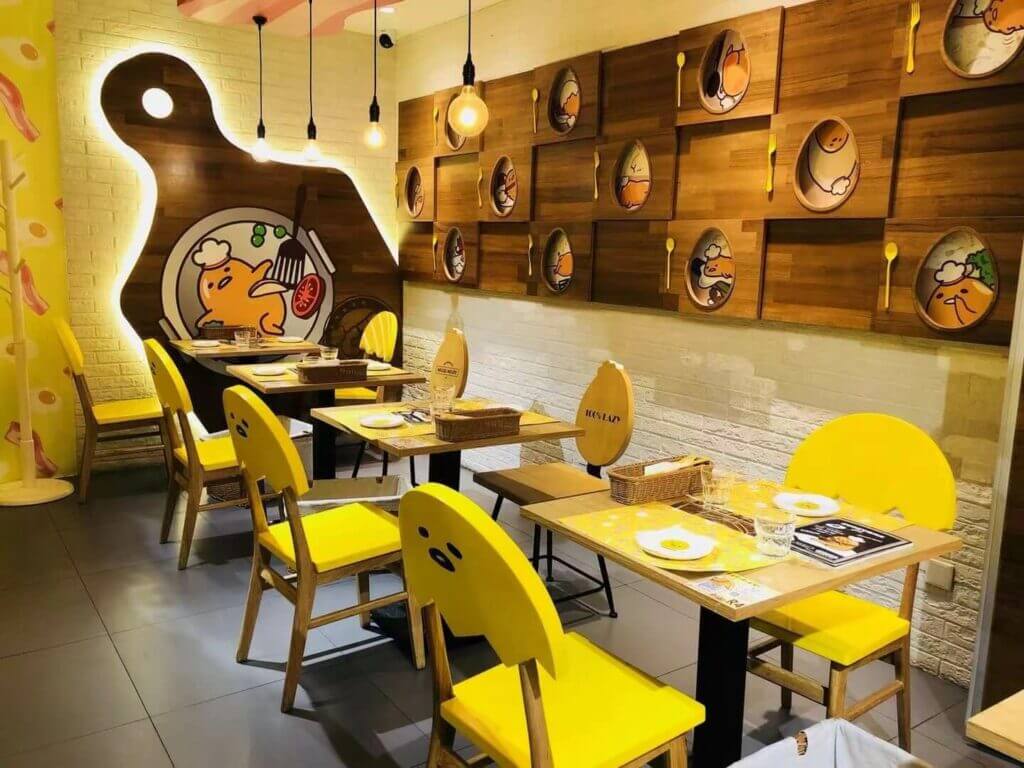 A well designed light wall decor will make a breathtaking statement on your wall. They will highlight your wall and at the same time add a warm mood to the room. The LED wall art will also give off contemporary vibes, so this will work best if your house is already towards a minimalistic modern design. Plus the lights can easily come off when you get tired of them.
Kitchen Cabinetry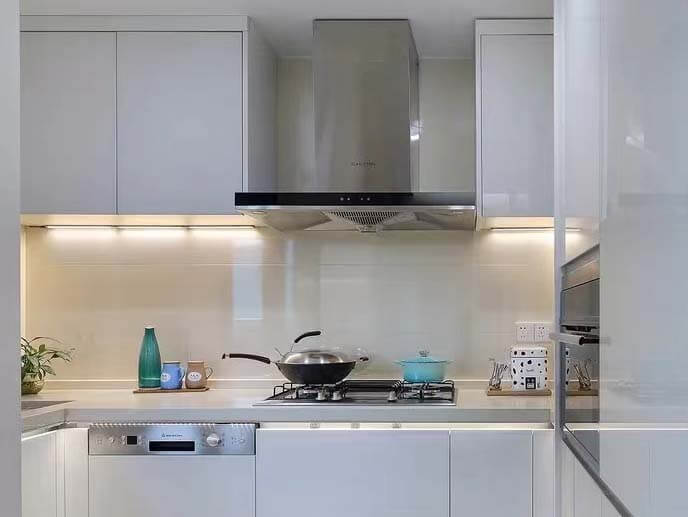 Kitchen LED strip lights are a great investment as the cabinet area becomes harder to see at night. They have carefully applied breakfast bars and cabinetry for soft lighting which illuminates the particular area. This is especially a good idea as we may spend most of our time in the kitchens doing fine chopping or other tasks that require good visibility. Those who have glass shelves will also benefit greatly from kitchen LED strip lights.
Bathroom Mirror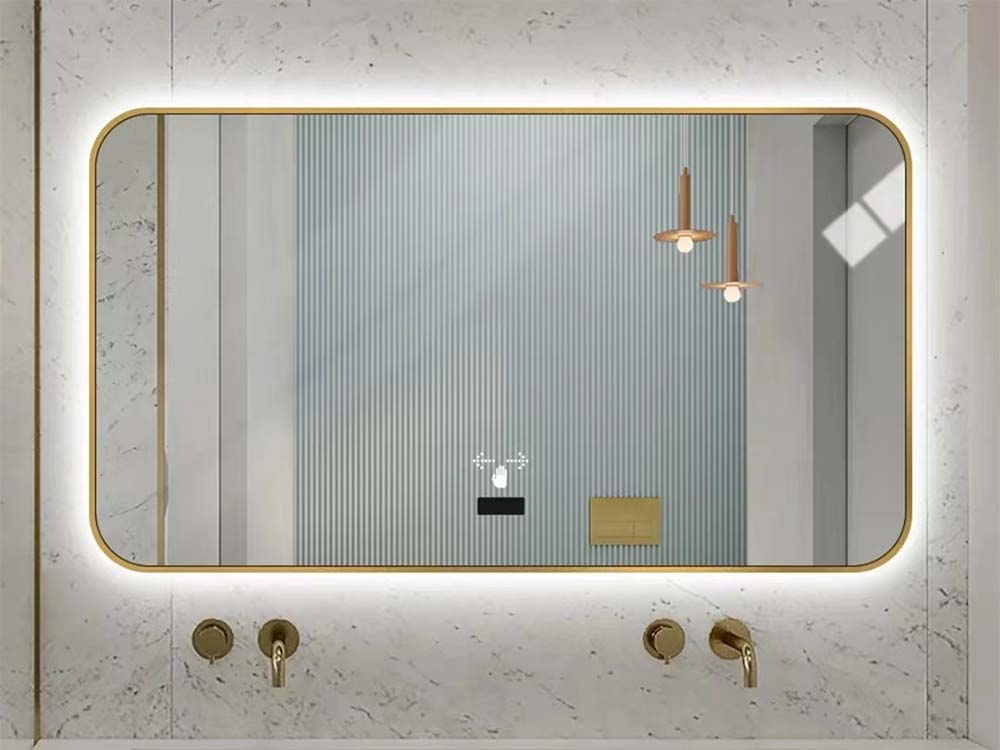 Getting waterproof LED strip lights for the bathroom mirror can spruce up the entire sink area. The mirror will stand out as if floating on the wall. It will be soft and illuminate your face instead of harsh light from a bulb.
Staircase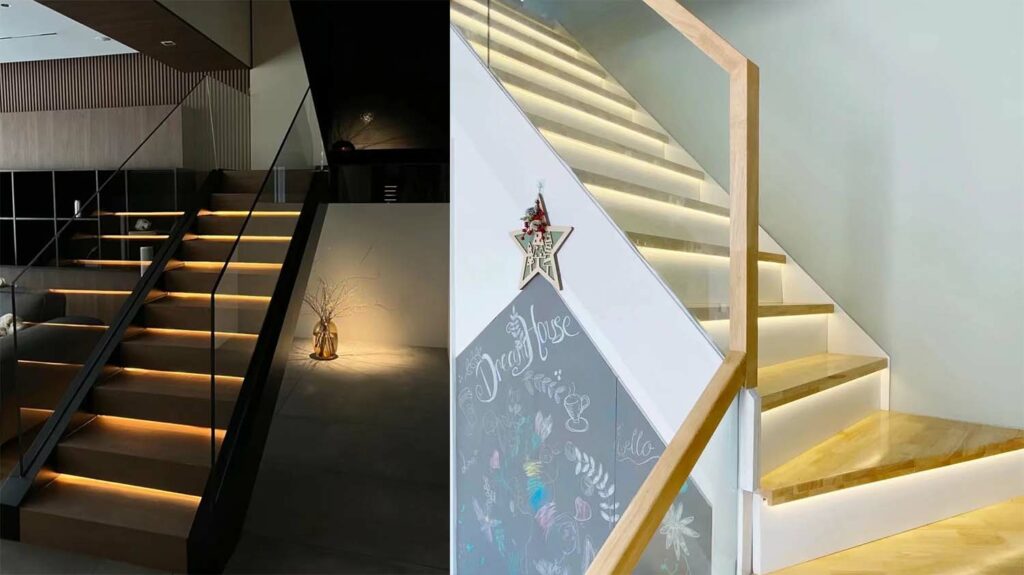 Best LED strip lights are often placed along the stairs so that you can tread safely at night. Stair rails are also illuminated which gives the illusion of floating stairs and also creates a shadow along the wall. The best part about this is that it is the perfect night light for anyone who lives on the first floor.
Ceiling illumination
Ceiling LED strip lights are a cost-efficient way of making sure your house remains well-lit without causing worry about the electricity bill. They also create a very serious impact especially if you have a fall ceiling – making it stand out even more. It creates a downlight effect on the ceiling which enhances any kind of interior design.
Gaming Zone Area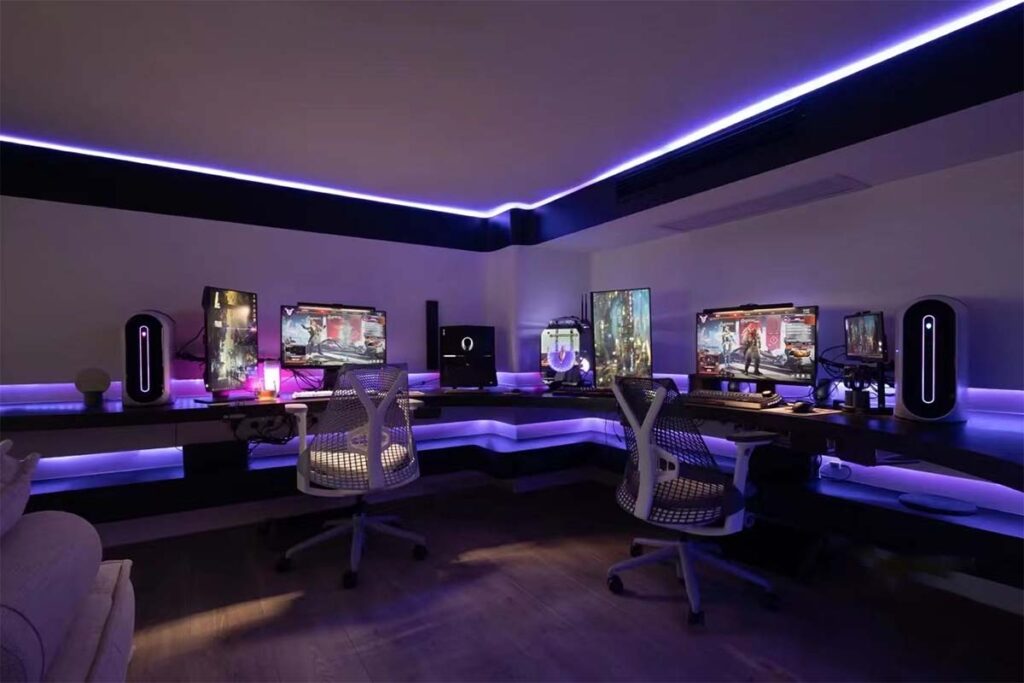 If you're a gamer then having LED lights for the gaming room is a must. They create just the right mood right before you immerse yourself in your gaming session. You can also pick LED strip lights with a remote so that you can change color as per your mood. Some LED strip lights can also be set in a way that they react to the changes on your screen. LED lights for the gaming room will significantly change the mood of the room – which is pertinent to gaming itself.
Underneath a wall vanity
Another way to illuminate your bathroom with LED strip lights is to place them under a wall-hung vanity. It creates a warm light and adds to the low-light bathroom ambiance and even gives the illusion of more space. You can also look for sensor-based strip lights so it only lights when it senses motion.
Terrace lighting
Relaxing on the terrace on a warm summer night is the best – especially if you like stargazing. Having the right kind of low light, hence, sets a mellow and intimate mood. Outdoor LED strip lights can be used to decorate the railing (if you have one), the terrace door, and the exterior boundaries of the top floor.
Children's bedroom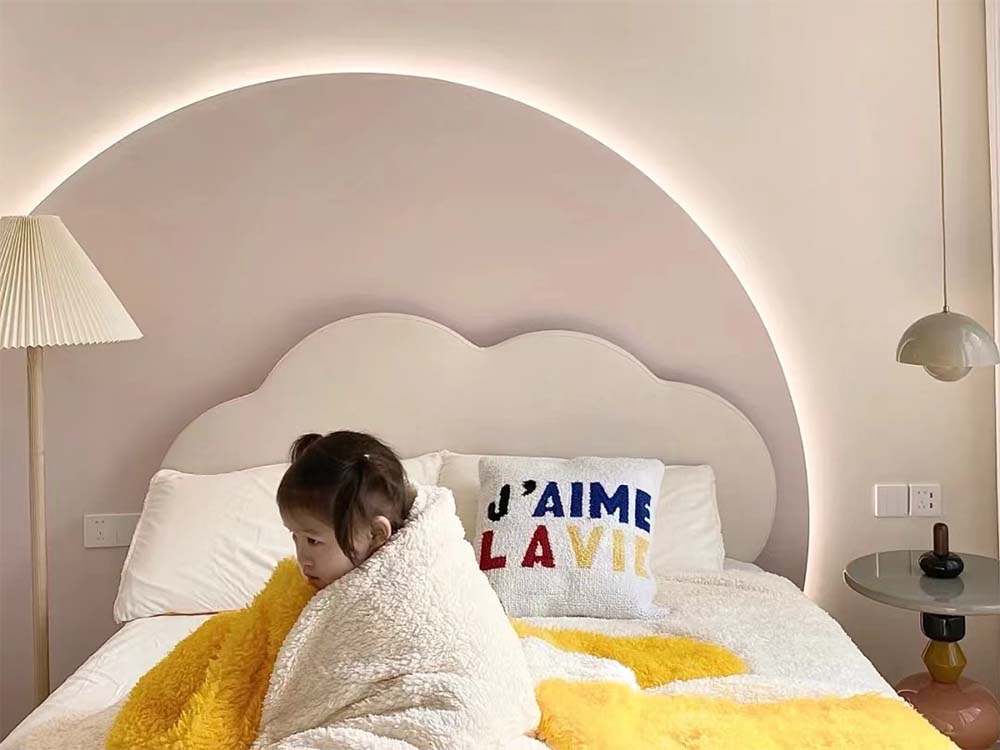 Even if your child's bedroom has plain white walls then adding LED strip lights to it will add an element of fun. LED lights for the kid's room can be paired with other themes that the child likes to play with. The lights can match the color of the theme and give the room a very playful look.
Headboard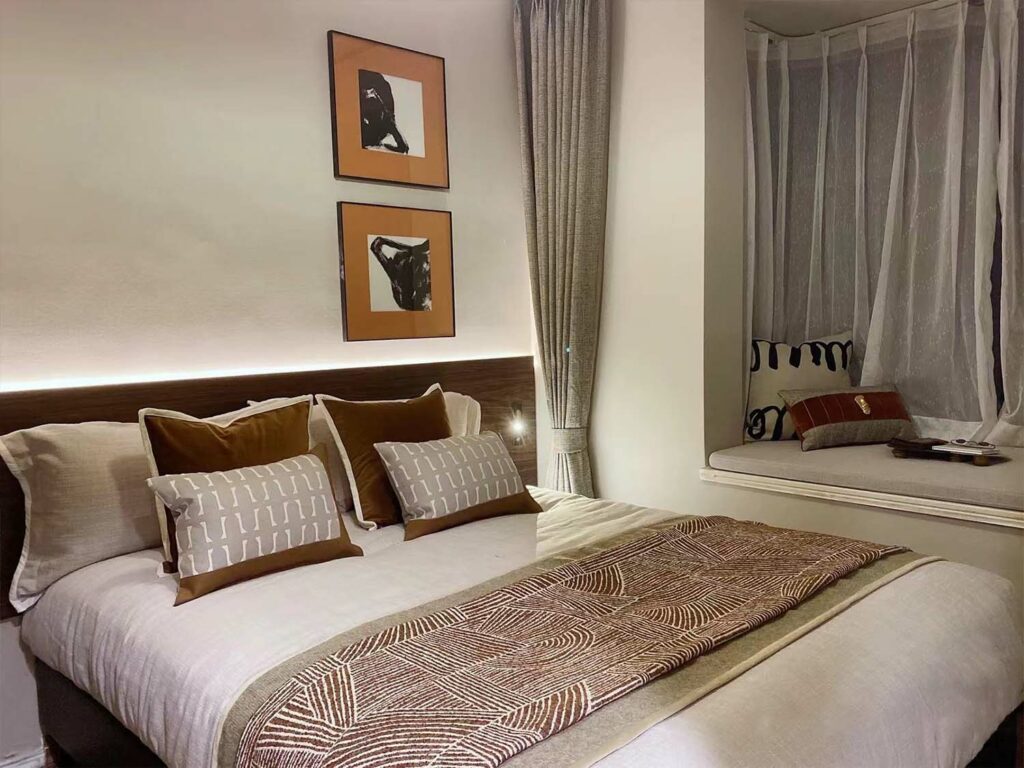 Another LED lightroom idea that you can think of is adding LED strip lights to your headboard frame. Not only will it illuminate your room at night but will also add a twist to your overall room aesthetic.
Garage Space
You can illuminate your garage into a sleek and very posh area with a simple addition of LED tape light. It helps highlight the architectural landscape of the garage while adding a very sleek aesthetic. Your cars will also shine in the night and reflect the lights – giving a very sophisticated vibe.
Behind Seating
Attaching LED strip lights behind benches (if you have any) can also add to the ambiance. It highlights the furniture and is a simple way of adding to very minimal furniture. If you have a sauna at home, then adding strip lights is completely safe behind the benches. Most are sauna safe, so make sure you get waterproof LED strip lights.
Desk
If you have a desk then adding LED strip lights or LED tape lights will create a perfect space for a home office or study table. You can add them under the desk around the corners of the desk to not only help you see better but also create a cozy work desk. The lighting will also allow you to create more space by not investing in a table lamp.
Behind Artwork
A genius way of making use of LED lights for the living room is to add them to the back of the artwork. Neither do these lights give off excess heat nor light – thus being completely safe. They light up the artwork very subtly but beautifully.
TV outline
You can also add smart LED strip lights for tv by highlighting the boundary. Not only will it be easy to turn the lights on and off but will also allow you to watch tv in a very cinematic environment. LED strip lights at the back of the TV are also known as bias lighting, which also improves the picture quality of the TV.
Outdoor Steps
If you have steps leading from a garden path to the front door entrance, then add LED strip lights at the base if the stairs will illuminate the path. It will create an almost movie-like entrance – stylish but subtle.
Drawers
Imagine opening your drawer and the inside is lit up. This can be achieved with the simple addition of some of the best-LED strip lights. The same can be done to closets as well. While there are also other alternatives such as light bulbs or switch-based LED lights, these will be cost-effective and easy to use.
Bunk Beds
Other LED lightroom ideas include adding LED strip lights under or around bunk beds. Alternatively, you can also use LED tape light. All your kid's friends will be envious of the fun décor of your child's room.
Garden
Luminate your lawn by simply adding waterproof LED strip lights along the flowerbeds or fences/ You can add additional LED lights around the tree trunks and bushes to create a magical natural environment in your back yard. You can also do this with LED strip Christmas lights when the holidays are approaching.
Illuminate the deck
If your garden features a deck then adding LED strip lights all around the boundary will make the deck look very comfortable and inviting. This is also another great idea for making use of outdoor LED strip lights. You can also opt for the LED strip lights with a remote so that you can turn them on/off or change the colors even if you are inside the house.
Patio/Garden Furniture
If your patio has garden furniture, then you can add LED outdoor LED strip lights to make the furniture cozier. This will also light up your garden at nighttime and you won't have to invest in garden lamp posts. You can also add the LED strip lights discreetly and place them under the furniture, so they almost give off the vibe as if they are floating in the air.
Brighten a plain white room
If you have a plain white-themed room then throwing in colored or even warm white LED strip lights will add character. These LED lights around the room will give a different vibe based on which color you opt for. Thus this is perfect for minimalists who sometimes want to energize their homes.
Display Cabinets
If you have display cabinets in your living room then adding LED strip lights inside will shed light on the decoration pieces inside. Your pieces will remain protected from dust and always under cost-effective lighting that makes them stand out. It will give a museum display set up to your living room.
Shower
If you have an alcove shelf or a shower screen then add waterproof LED strip lights to give the shower area a modern finish. Your bathroom will look like it belongs to a hotel bathroom with such lighting. They will highlight your shower area or shelf while the other bathroom will be darker – creating a very sophisticated and chic look.
Bookshelves
If you have a bookshelf at home, then you should get LED lights for the living room to add to the collection of books. Not only will it illuminate your book titles but will also create a lit reading space near the bookshelf. Just add a coffee table or a comfortable sofa there and you will have a cozy and comfortable reading space. This will be especially useful if you like reading at night when everyone is asleep. You can also do this for the bookshelf LED lights in the kids' room.
Under the truck
If you own a big truck, then a great idea to use LED strip lights is on it. Your truck becomes even more eye-catchy because of the LED tape light. You can add it to the headlights, light bars, under the truck, and more. This will make you feel even more powerful especially if your truck is big.
Aquarium
If you are an aquarium owner, then LED strip lights will be of fantastic use. The aquarium becomes more illuminated, you can see the fish clearly, and what's more, is LED lighting helps reefs to grow as well. Additionally, this lighting is completely safe for the fish. You might have to replace the LED strip lights more regularly though, as the LED circuit can be damaged over time. It is thus also better to get water LED strip lights for an aquarium.
Ponds
Much like the aquarium, if you have a pond at home, then adding LED strip lights to it brightens the base of the pond. Again, you will have to look for waterproof LED strip lights as the long exposure to water will not make them last for long. Therefore, get the waterproof ones that are made for underwater surfaces. Investing in LED strip lights is great as the pond will not need expensive underwater lighting.
Bathtub
If you have a freestanding bathtub, then a great use of LED strip lights is to put them at the base or lower end of the tub. This will give the illusion that the tub is floating. Some tubs also come with their own LED lighting, but you can easily buy LED tape lights or your preferred colored LED lights. The lights will also outline the shape of the bathtub.
Console Table
If you have a console table in your living room, then invest in LED strip lights as they can give a very edgy atmosphere to the entire living room. Most consoles are designed in such a way that there is space underneath them, so adding LED strip lights is very accessible. LED lights for the living room are often most commonly used here.