Pools make great backyard water features. But when night falls, they may need extra lighting. To increase the atmosphere and safety surrounding your pool, you might want to consider adding some creative lighting. We handpicked some amazing pool lighting ideas, which are sure to get your attention!
In recent years, pool lighting has become increasingly popular. Despite the association with "having fun in the sun.", swimming pools aren't just utilized throughout the daytime!
If you're a pool owner and also enjoy swimming at night. You might also want to host late-night pool parties or even use the pool area as a beautiful outdoor place. Even when the sun sets, pool lighting gives you options to enjoy the pool in many ways!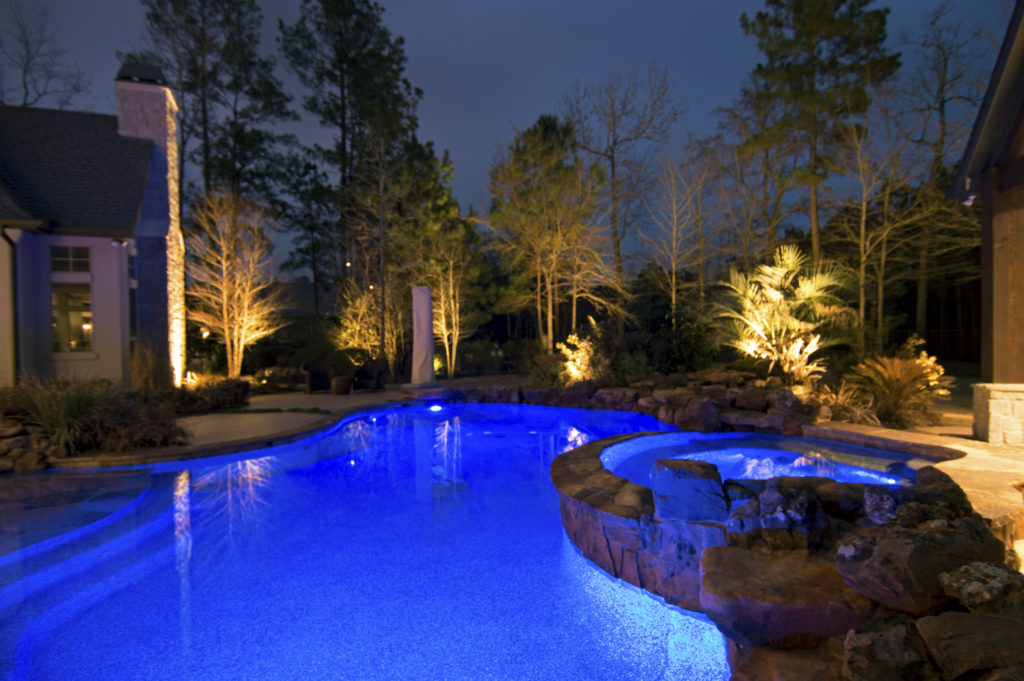 Confused About Which Idea Suits You Best? We're Here To Help!
When it comes to choosing the best pool lighting ideas, one can get easily confused. Considering the fact that there are so many different options available.
You can also make a greater pool area visible by adding poolside lighting. Making it a need for houses with young children, animals, and also accident-prone people. The correct lighting surrounding a pool also highlights your favorite house features.
Illuminating the pool area can also make it appear cozier and more festive. With the aid of our pool lighting ideas, you can make your pool space fully functional. While also giving your property a stunning appearance. Let's get into it!
1- Install Underwater Spotlights And Outdoor Floodlights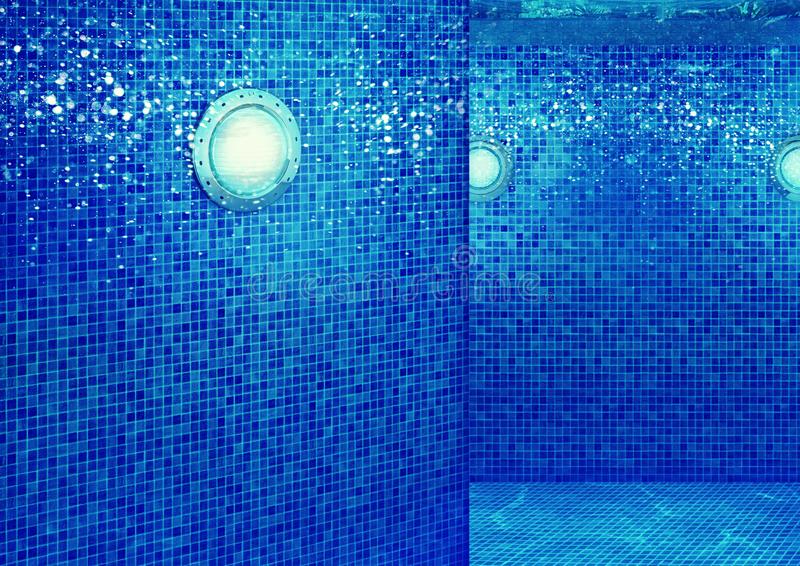 Simple underwater spotlights allow the pool to shine alluringly. While sleek wall lights linked to the home's exterior provide extra illumination. They play a huge part in enhancing the setup's contemporary feel.
Underwater pool lights don't only illuminate your pool. They also contribute to the overall ambiance. Mainly by highlighting the stunning water hues! While the swimming pool may take center stage in the design scheme. Backyards with pools frequently have a variety of extra characteristics.
Architectural features and purposeful plants provide a backdrop to complement the scene. It is critical not to overlook these crucial components. Instead, you can incorporate spotlights and floodlights into your outdoor lighting strategy. To highlight bigger areas for safety. You can also highlight nearby buildings and vegetation. Or attract attention to a noteworthy aspect that deserves a good highlight.
2- Add Floating Lights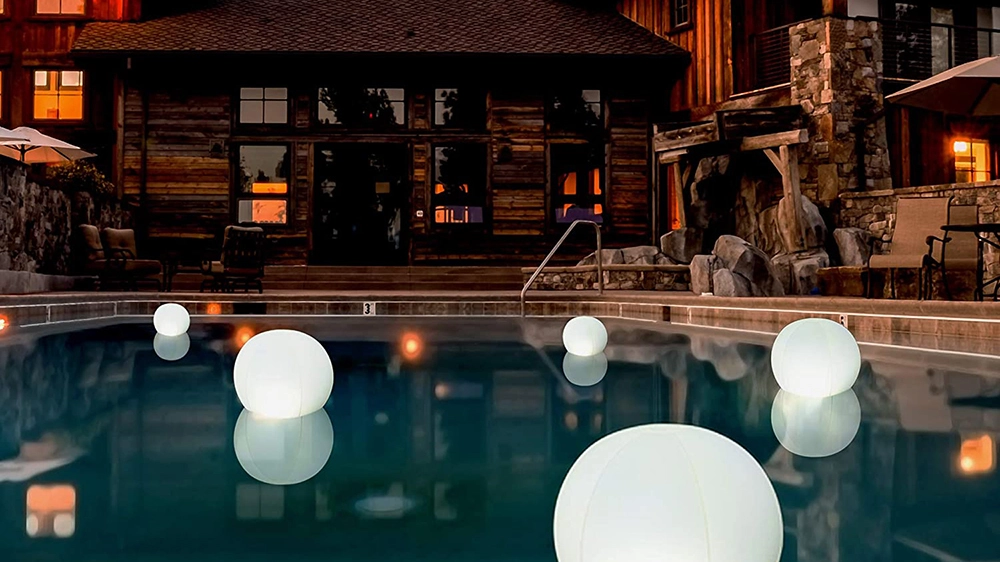 With floating pool lights, you can continue the fun even after dark in and around your swimming pool. They're wonderful for boosting visibility and making the poolside atmosphere welcoming for everyone. Due to their high energy efficiency, LED pool lights are generally acceptable for both above-ground and in-ground pools. Halogen pool lights are also an option for a brilliant, vintage appearance. Another enjoyable, simple-to-use option that doesn't require installation is floating lights.
Most swimming pools can quickly and easily accommodate pool lights, which are available in a variety of colors and wattages. Even some outside lights come with remote control for simple changes from your lounge chair. Solar pool lights use the sun's energy to renew your lights as a green alternative. Making them light on your pocket!
3- Install Waterproof LED Light Strips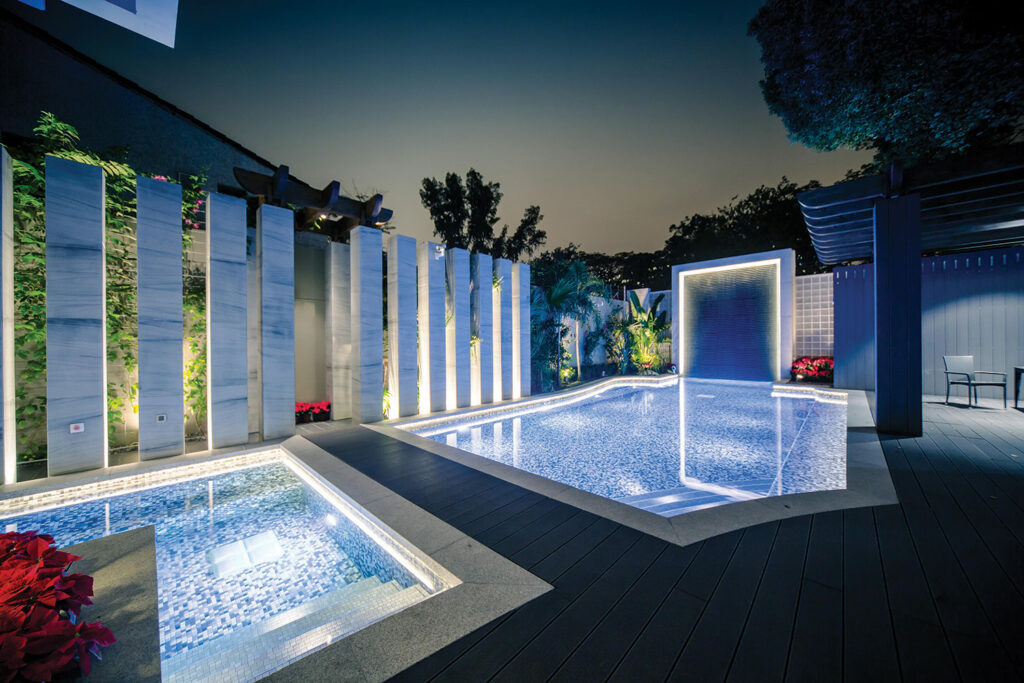 A great way to light up a pool is to illuminate its boundary! LED strip lights give you this option by also being extremely versatile in terms of the colors they come in. Like many other LED lights, they come with a variety of functions to choose from. They play a huge part in making your pool space appear chic and shiny!
4- Give Your Pool A Lit Waterfall Effect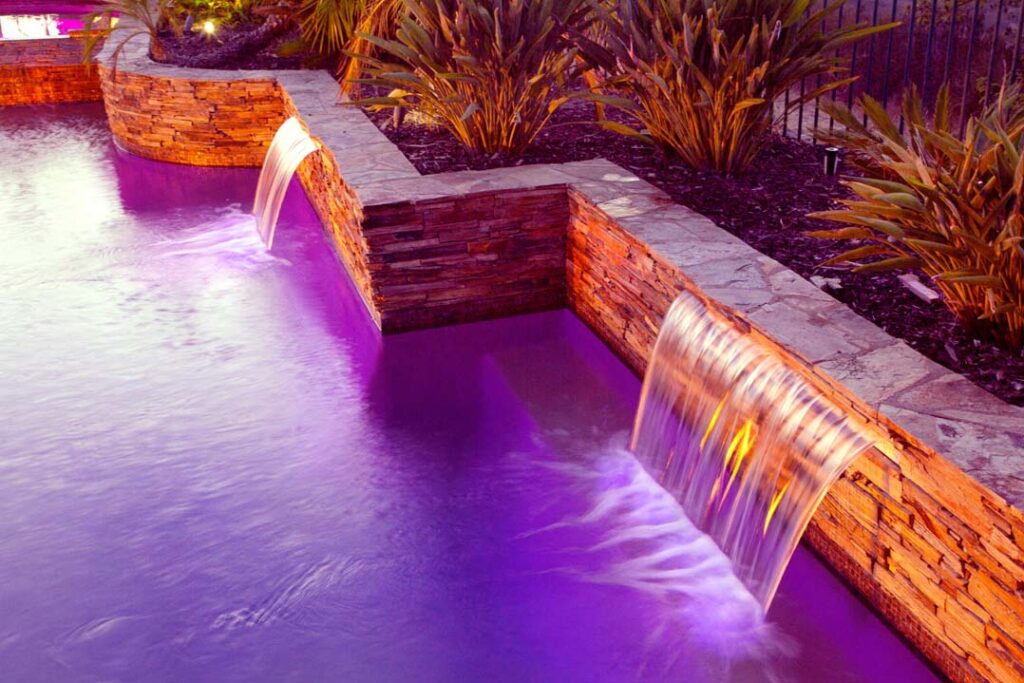 Adding a waterfall fountain at the edges of your pool can make it look like a million bucks! Not only are these waterfall fountains illuminated, they also contribute to a calm and relaxing ambiance! Not to forget listening to the calming sound of water falling on a tender moonlit summer night!
5- Consider Getting LED Lanterns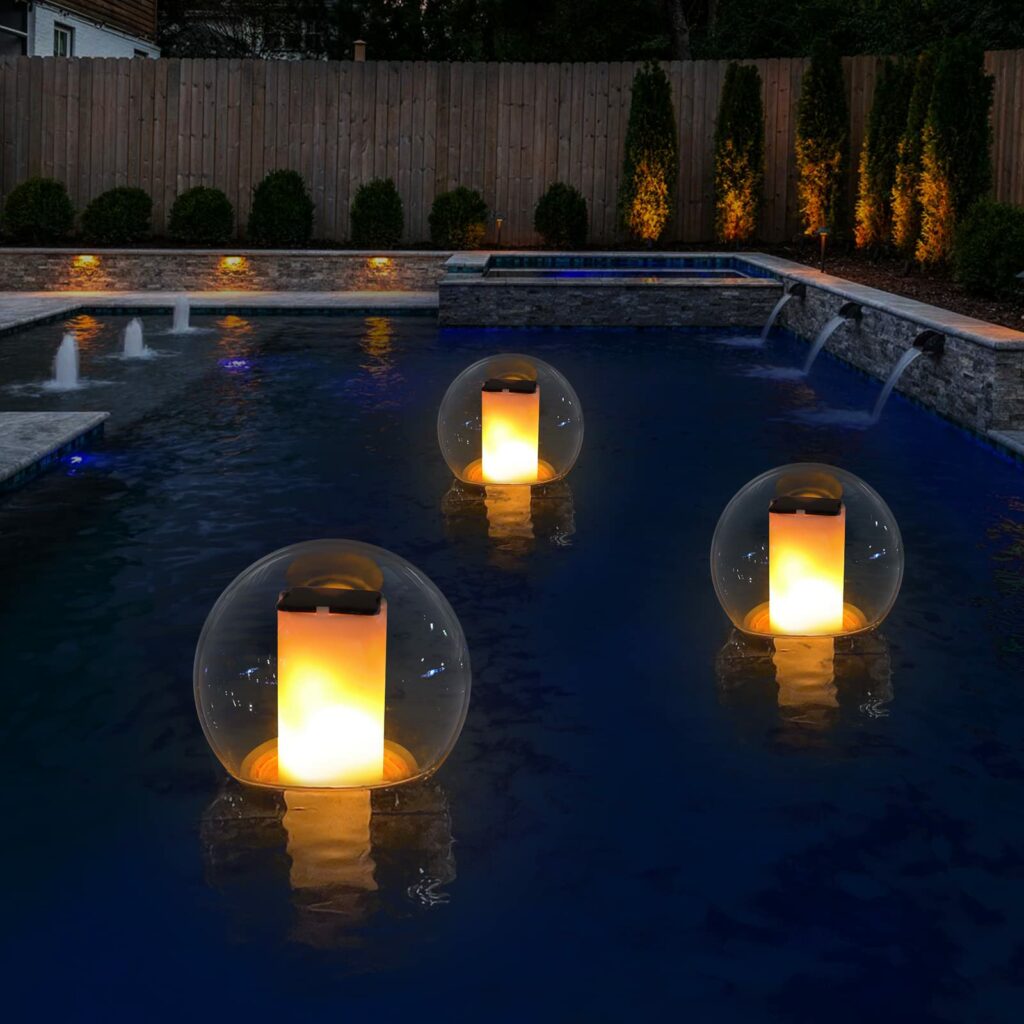 LED Lanterns are a great and wireless way to amp up your pool lighting. They provide a calm and peaceful ambiance and are super budget-friendly! The floating lanterns come in different shapes, sizes, and color settings. Perfect for a nighttime pool party!
If you have kids around, they might be the safest lighting option there is! They don't only illuminate your pool with nice and dim lights but can also help in visibility at night. Not to mention they make excellent pool decor pieces!
6- Add An Illuminating Pool Fountain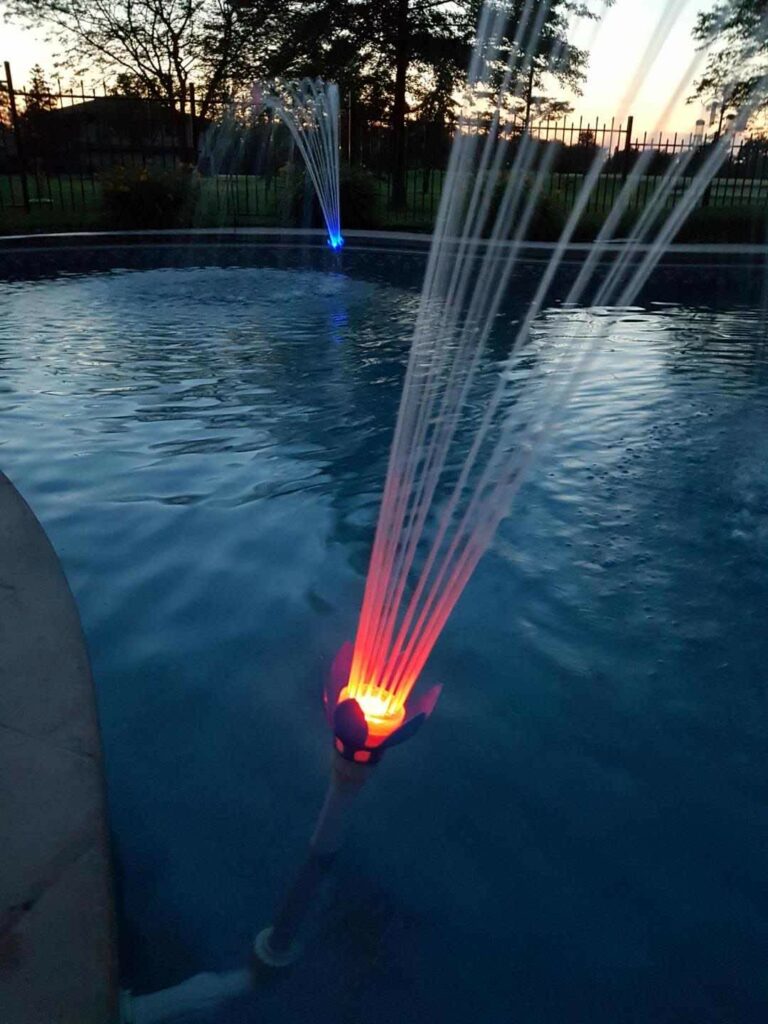 If you've ever visited Las Vegas, you are aware of how captivating a huge, gorgeous water fountain can be. They are visual performances performed using sprayed water that have the ability to really grab people's attention. The shapes, the lighting, and the synchronization with the music. Lovely! why not bring the same effect to your home pool? Yes, we are not kidding!
Adding pool fountains can be amazing if you want to impress your visitors with visual water shows. Put a few of these all-in-one illuminated floating fountains in your pool for a distinctive nighttime backyard experience!

The Alpine 48-LED Floating Spray Fountain is a popular choice for pool fountains!
7- Go for Color Changing LED Lights for Your Pool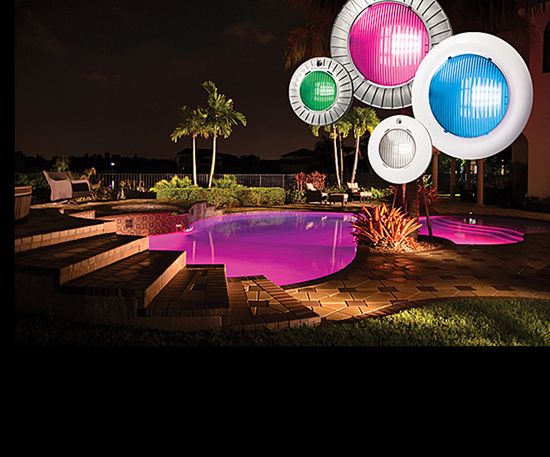 Color-changing LED lights, like the Happox Color-Changing LED, allow you to select from a variety of various preset animations, cycle through color shifts and even change the color to your preferred hue for a pool light.
Given their strength, these pool lights should be more than capable of illuminating your pool in addition to any Hayward or Pentair pool lighting fixtures that may already be in place.
8- Swim Above the Stars With Underwater Fiber Optics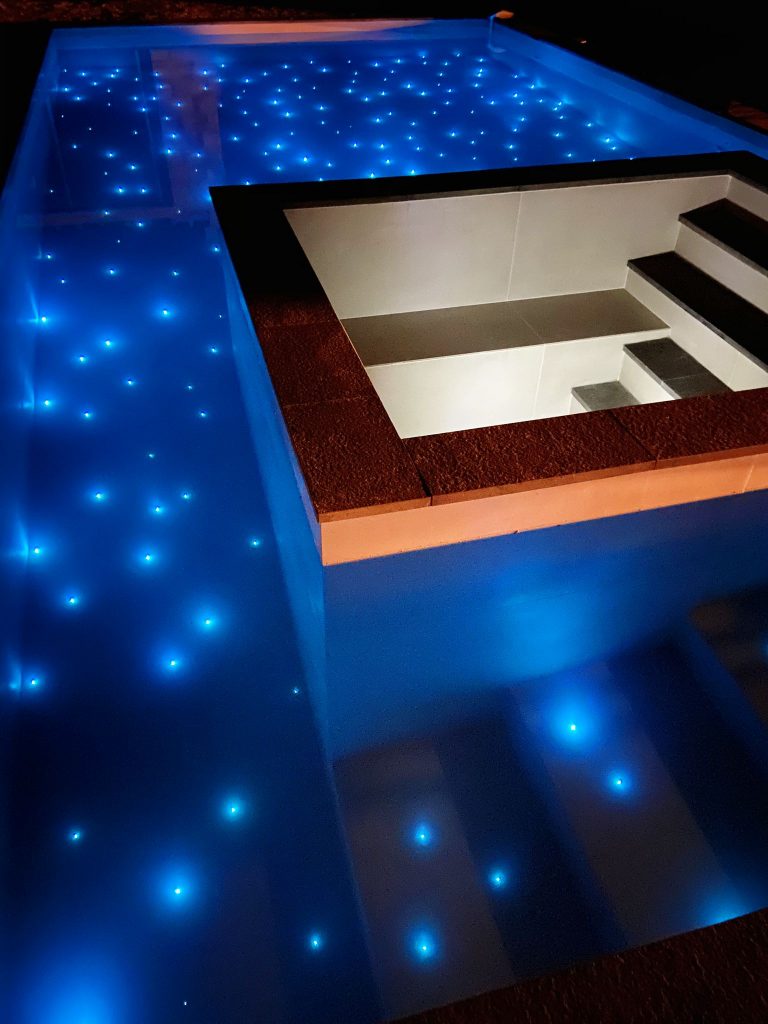 The ability to enjoy a swim after dark on a warm, clear evening is one of the most enjoyable aspects of owning a swimming pool. With dramatic star lighting integrated into the base of your pool, you can also enhance the experience even further. Use waterproof fiber optics to achieve this starry night aesthetic in your pool space, and we're sure you're going to hear a lot of compliments.

Imagine stars floating beneath you as you swim! Amazing!
9- Install an Underwater Projector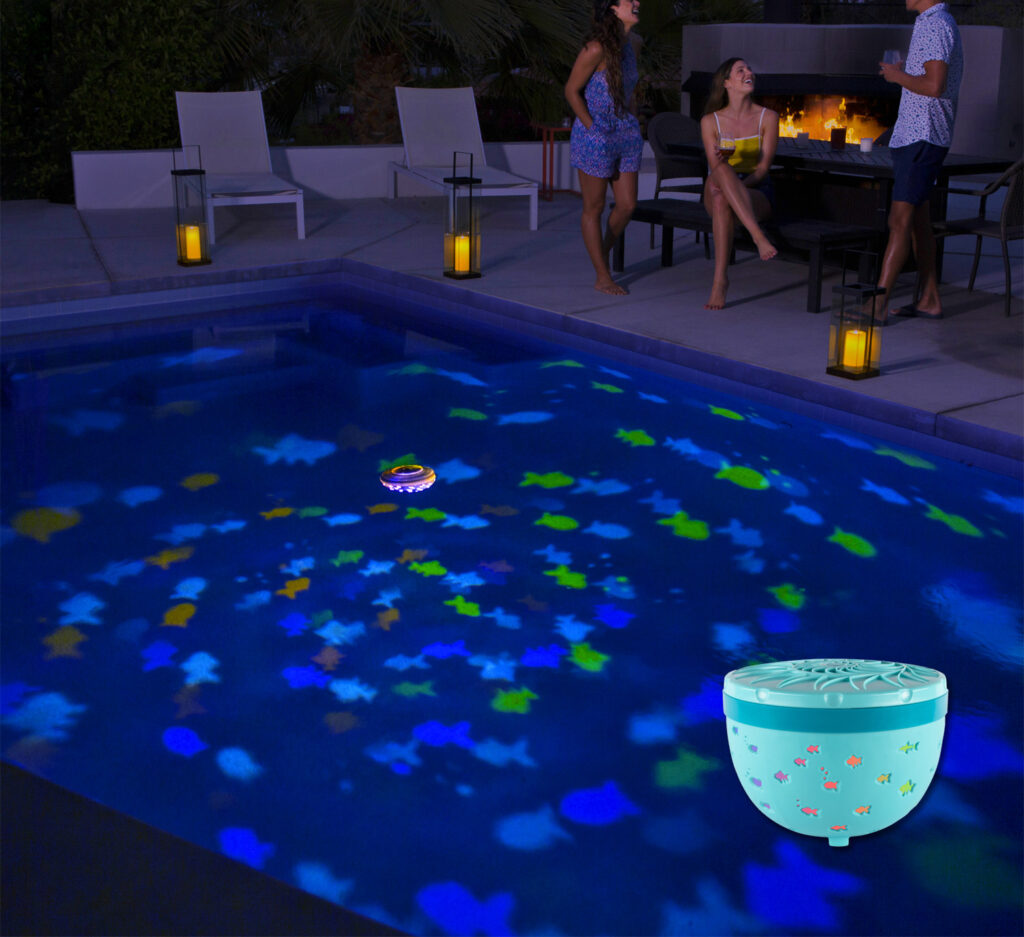 Get an underwater light projector and turn your pool into a cool, glow-in-the-dark aquarium. All you have to do is install this projector in the middle of your pool, and voila! Your pool is now a giant, colorful aquarium. The kids will love this one!
10- Give a Glistening Effect to Your Pool Water from Above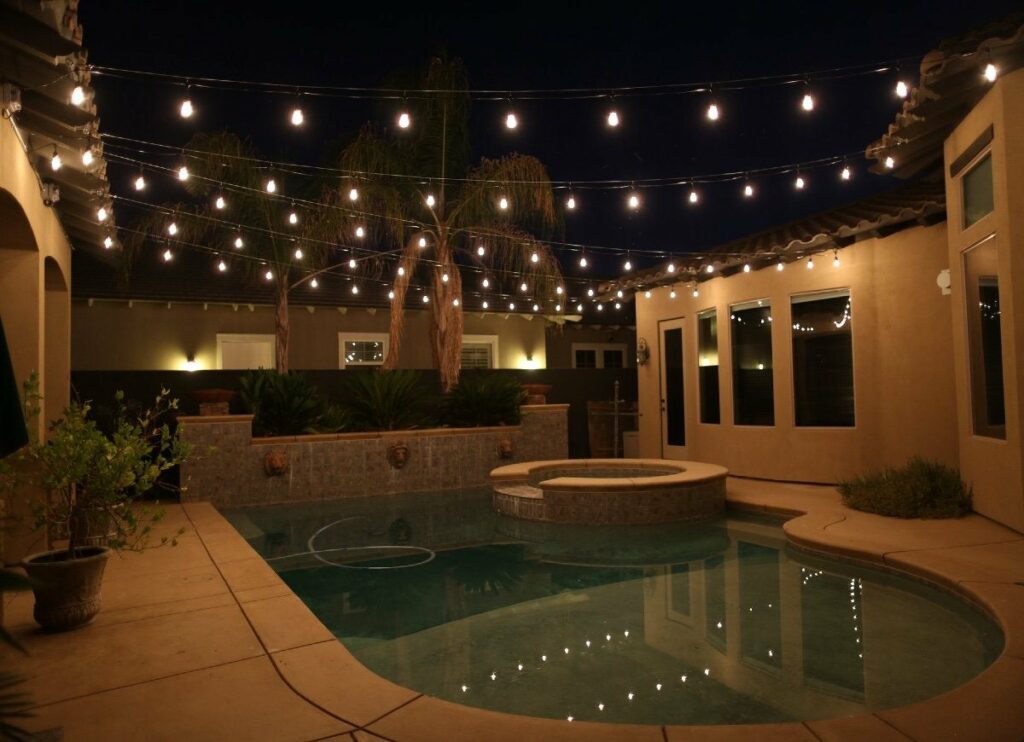 Another great idea to up your aesthetic game is to take advantage of the pool's function as a natural mirror when coming up with pool lighting ideas.
According to some experts, "when building the pool and the yard, ultimately to be enjoyed at night, be sure that there are components worthy of being lit and reflected in the pool." This might be the lit-up outline of your pool, a row of lanterns by the pool, or glittering, cascading lights hanging above.
How Many Lights Should Be Present In The Pool?
It is a matter of taste as to how many lights should be present in and around a pool in order to sufficiently light the area. Others may want enough ambient light to carry out their greatest pool party ideas long into the evening, while some folks may want dim lighting surrounding their pool so they can see the stars.
Depending on the length of the pool, many people also decide to set lights along the house side of the pool at a distance of about eight feet from the spectator, centered on the pool. You won't be staring straight at glaring lights at night if you do this.
When Looking for the Ideal Swimming Pool Lights, Keep the Following Factors in Mind:
When it comes to swimming pool lighting, there are a ton of fantastic options available. Of course, that also implies that determining which pool lights will function greatest for you can be challenging. Would you rather have a colorful light show or continue with the traditional white light? Are you interested in "smart" lighting that uses cutting-edge technology, or do you prefer plain illumination?
Choosing The Right Color For Your Pool Lights
The Pool Finish
The Size of Your Pool
Your Technology Preference
Budget or High-end
Choosing The Right Color For Your Pool Lights
If safety and visibility are your primary priorities, white light is an excellent option. If you're looking for a subtle way to highlight the design of your swimming pool, it's also straightforward and timeless. Color-changing pool lights can be the best option if you want something with more "wow factor." Every hue of the rainbow is available for swimming pool lighting, along with entertaining, pre-programmed "light shows."
The Pool Finish
Contrary to popular belief, the appearance of your swimming pool lights depends on the shade and color of your pool finish. Interior surfaces with medium to light colors reflect light, whereas a darker finish absorbs the light.
Therefore, if your interior surface is light to medium in color, you can select either colored or white lights.
White light is the best option if your pool has a darker finish, though.
If not, there's a possibility that the finish on your pool will absorb the colored light and give it a murky appearance.
The Size of Your Pool
How many pool lights do I need, you might be wondering. The size of your swimming pool will determine how many lights you require. Pools measuring 15′ x 30′ just need one light. Pools 20′ x 40′ need two lights. For pools larger than 20′ x 42′, three lights are required.
Your Technology Preference
Today's pool lights come with a wide range of entertaining and practical features, like smartphone integration, dimmer switches, and more. Additionally, several colored LED pool lights might be set to put on amusing, vibrant "light shows," which up the enjoyment factor of any backyard get-together.
You can choose from a wide range of high-tech advancements in addition to color-changing pool lights, including using a phone app or your home automation system to control swimming pool lights with a remote.
Budget or High-end
Pool lighting can range anywhere from budget-friendly and cost-effective to high-end and luxurious. Energy-efficient LED lighting or solar-powered pool lights are both excellent options if you're trying to make a "green" decision. Halogen lighting is the best option if you want to get a good deal (although halogen lighting will cost you more over time to operate).
Choose Above-ground Pool Lighting – If You prefer A Well-lit Pool Space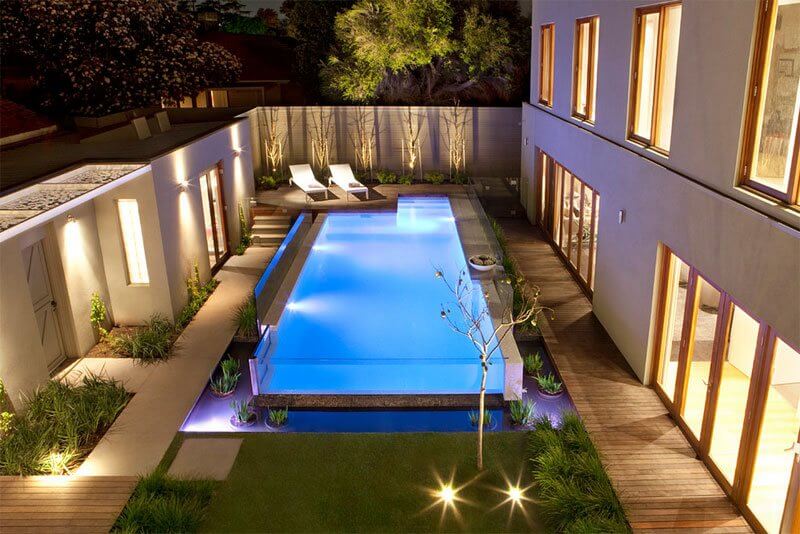 So you want to light up your pool area with the upper pool deck and the area that surrounds it. You also don't want someone to fall into your pool by accident. Above-ground pool lighting illuminates the area making it completely visible. It also reduces the risk that someone will fall into the pool. Safety First!
Illuminating your space makes also makes it easier to spot someone sneaking around. Especially when they shouldn't be.
Fun fact: Crime is prevented in well-lit places.
When it comes to above-ground pool lighting, there are many ideas to choose from. Lighting installed above ground pools can illuminate the water. Just as effectively as the lighting installed below. The lights also don't need to be waterproof or need particular upkeep. And you may still enjoy the effect of light falling into the water depths, giving out an aesthetic effect!