Good bathroom lighting ideas make a small bathroom look bigger and a large one feel more private. If it's your ultimate spa-like hideaway or a busy family bathroom with a fresh, crisp atmosphere. Our Bathroom lighting ideas are sure to inspire you!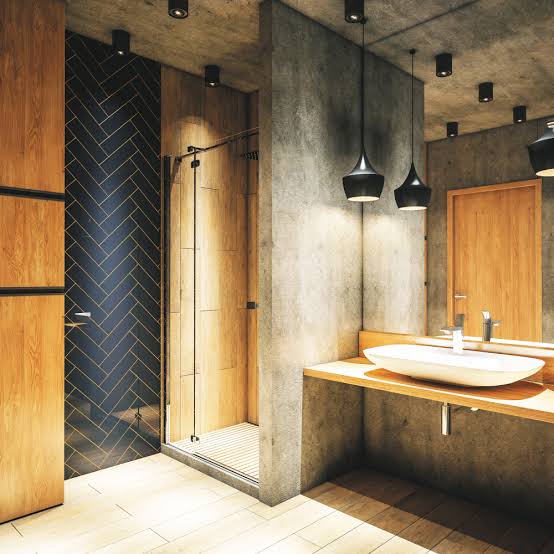 Things to keep in mind when getting started
If youre thinking of making your bathroom space lit, the size of your bathroom doesn't matter. It is crucial to have adequate lighting that casts a cosy glow around the area. But think about a few things before spending money on your new fixtures.
Choose the lighting kind that will best fit your space first. The four most frequent lighting fixtures are recessed. Which is a normal overhead light that illuminates the entire space. Hanging lights, which offer a little opportunity to make a statement. Flush mounts, which are great for bathrooms with low ceilings. Wall sconces, which often flank a mirror.
The truth is that any light will look amazing in a bathroom. If you're looking around for the ideal fixture. You can rest certain that everything from pendant lights to modern spotlights will work. Having said that, if you're looking for some remodelling ideas. Read on for some amazing ideas on how to add light to your bathroom.
Bathroom lighting Ideas
1- Vanity Lights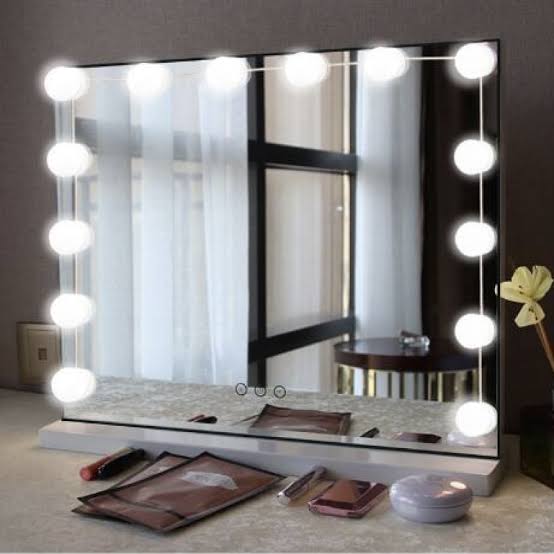 The right bathroom illumination makes a significant difference. Especially in everything from makeup to everyday hygeine routines. To simply waking up in the morning. All of that can be taken care of by LED Vanity Lights For Mirror, Consciot Hollywood Style Vanity Lights. They deliver glare-free, even light and have stylish designs that stand out on their own.
There are three colour temperatures available for the vanity mirror lights. Warm white (3000k), daylight white (4000k), and cool white (6500k). Depending on how you feel, you can choose any hue. The 10 LED Hollywood style dimmable LED light bulbs have a 120 degree beam angle. And offer 1-9 level dimming to accommodate your various needs. You won't have to manually set the brightness every time thanks to the memory function.
This DIY mirror light is very customizable as well. you can turn the bulbs in either a clockwise or anticlockwise direction as desired. this gives you the total flexibility to modify the length. While also maintaining the beauty and orderliness of your vanity cosmetics set.
These easy to install light bulbs won't slide off easily and won't leave any scars on the mirror. Thanks to the double-sided sticky tape they come with.
2- Spotlights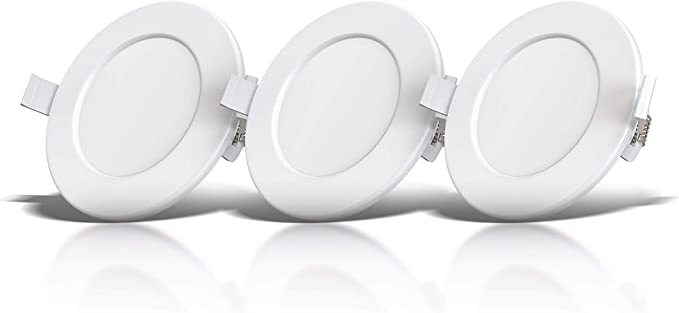 Bathroom lighting should be arranged in advance. To ensure that all important fixtures are appropriately lit. Aim for adequate ambient lighting around the bath. As well as task lighting in the shower and vanity areas.
By adding spotlights in areas such as over your shower cabin can make your bathroom appear wider. Our best pick for spotlights are the B.K.Licht – Set of 3 LED IP44 Rated Recessed Bathroom Spotlights.
With this set of three recessed spotlights from B.K. Licht, you can update the lighting in your house. They fit flush to the ceiling for a modern, classic style. It has an installation depth of just 30mm/1.1in. Its IP44-rated splash-proof ceiling downlights are perfect for use in bathrooms. And will also add some glitz to your bathroom, even your kitchen or utility room.
These spotlights have a diameter of 75mm/2.9in. And a ceiling cut-out of 60mm/2.3in. They are a smart home improvement choice. Since energy-efficient bulbs provide low power consumption. They have a long life of 20,000 hours.
3- Flush Ceiling Light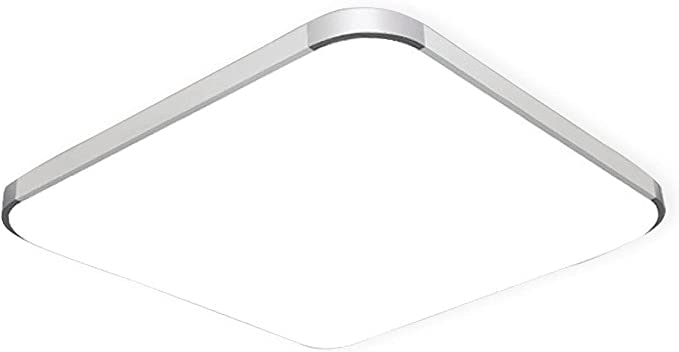 Aim for adequate ambient lighting around the bathroom as well as task lighting in the shower and vanity areas. A flush ceiling light is all you need. Flush ceiling lights are known to have a lengthy lifespan. And they provide excellent value for the money.
We highly recommend getting the JUBANGLIAN LED Ceiling Light Flush Mount Light Fixture for this matter.
You can choose warm white 2700K, natural white 4500K, and cool white 6500K. These are the three different colour temperatures that you can choose from. You can also modify the colour temperature and brightness. By using an infrared remote, depending on your preferences or the location where you want to use it.
4- Task Lighting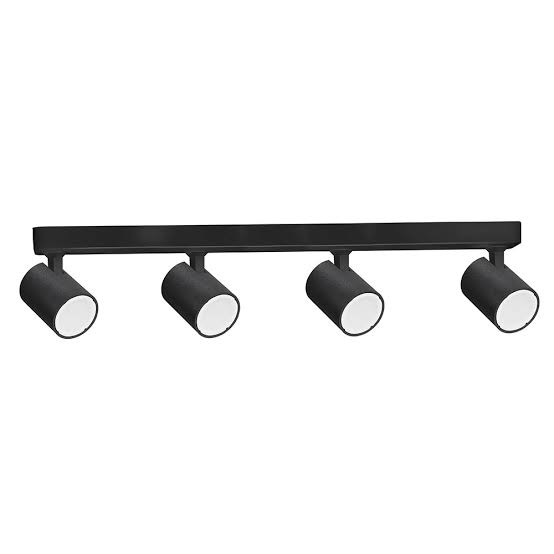 Installing task lighting over your bathroom mirror never goes out of style. It's actually quite crucial to use task lighting to illuminate both your face and the mirror. For applying makeup or shaving, a light source on the left and right sides of the mirror, such as two ornamental bathroom wall lights, will produce a shadow-free, pleasing light.
The ideal technique to light your face is with backlights. Which you can install all around or wall lights on either side of the mirror. Although using downlighting to enhance a statement basin is also an idea. But it is less attractive and will also cast undesirable shadows.
The Quad GU10 Spotlight Bar is amazing for this purpose. It offers a 90-degree tilt and a 350-degree rotation. You can create the perfect ambiance with these adjustable heads. You can achieve this ambiance by using 50W maximum GU10 LED bulbs. Dimmable when used with a compatible dimmer switch and lamp.
5- Pendant Lights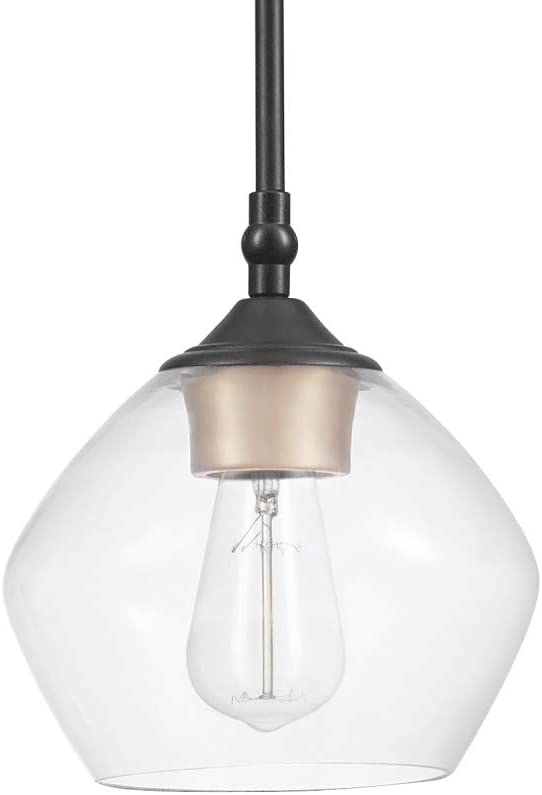 For those who desire their lighting to stand out, large bathroom chandeliers, drum pendants, and enormous floor lamps are all highly popular. Our pick for this bathroom lighting idea would be the Globe Electric 60312 1-Light Pendant.
Pendant lights such as these can give your bathroom space that cozy and sultry feel. And if you like vintage designs, installing pendants on the roof will really please you. It features stunning gold accents A shapely glass shade, gold accents, and matte black come together to create the pinnacle of mid-century modern style.
Change the bulb to alter the appearance of your pendant with the help of the transparent glass shade. Use a designer bulb for an entirely new feel or an antique Edison bulb for a simple mid-century modern look. Its fully dimmable function provides the ideal ambiance. The dimmer switch is sold separately.
It contains all the mounting hardware that you need for quick and easy installation. It can be mounted on a sloped or vaulted ceiling.
6- Sconces Lights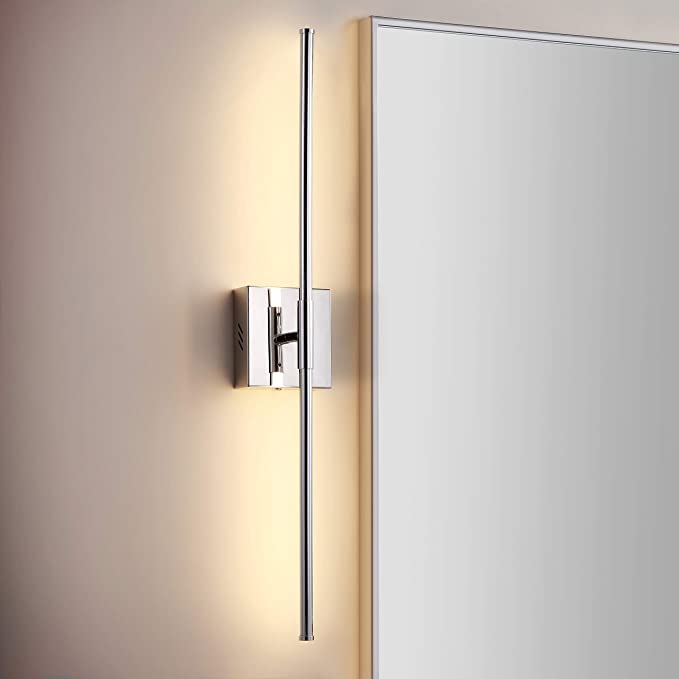 If you really want to bring undeniable attention to a statement piece in your bathroom such as the mirror or even behind the wall of your bath tub. Sconce lights are the best option.
The JONATHAN Y JYL7022B Makena 28″ Dimmable Integrated LED Metal Wall Sconce is perfect for bringing out the best in your statement pieces.
This minimalist wall sconce is beautiful in its simplicity. The item is stylish and uses little energy thanks to an embedded LED light. We adore how the exquisite polish gives any space an opulent feel.
The metal body's gold finish makes it suitable for any colour scheme.

Since this fixture needs to be hardwired, we advise having a licenced electrician handle installation.
It comes with LED Bulb 10W which is Built-In and PVC cord material.

Important: Remove the power source before cleaning any lamp shade or fixture. Use a soft, dry towel to clean. Avoid using home cleansers and chemicals since they could harm the finish.
Some Additional Tips
The best bathroom lighting schemes are created by top interior designers using a wide range of fixture options. Including flush mount lights, wall sconces, and overhead ceiling installations, to mention a few. You can take inspiration from them and pick a chandelier to place over your tub. Or decorate your vanity mirror with a set of wall sconce.
You can also use a floor lamp to create a luxurious spa-like atmosphere. To create unexpected mood lighting, place one next to a bathtub. Of course, natural lighting is literally the best so utilize windows that receive a lot of sunlight by choosing light-filtering window treatments and mirrored surfaces that will reflect light evenly throughout your space.
Bathroom lighting ideas are important to take into account if you want to modify your space, whether you're planning a significant makeover or simply want to give your bathroom more versatility. A spa-like atmosphere can be destroyed by strong lighting, while insufficient illumination can result in grooming errors. In addition to making a bathroom hideaway functional, the correct lighting also wakes it up, which is essential for overcoming early morning drowsiness.
Conclusion
Take advice from the finest and get inspired by the timeless and classic bathroom lighting designs presented here. You'll discover that there are many of options when it comes to hardware, brightness, and much more. These designs demonstrate the variety of bathroom lighting options, whether it be a crystal chandelier, an inconspicuous flush mount, or an eccentric floor lamp.
With our handy dandy bathroom lighting ideas, the sky is really the limit. Pick lights that attract you the most and impress anyone who visits your bathroom! Happy installing!