When you're getting ready for the day, it can be quite frustrating to pick a product from a messy clutter. When it comes to under-the-bathroom sink organization, the struggle is real! We get it. No matter how many times you organize the space below your sink, in some way or another other it still gets messed up. Our handpicked ideas to organize under the bathroom sink are here to make your under sink free of clutter. These ideas are super handy and most of the products are cheap and don't fall heavy on the pocket. While they also keep your bathroom under the sink area looking tidy and organized!
Let's get started!
Ideas to Organize Under the Bathroom Sink – Use a Caddy Organizer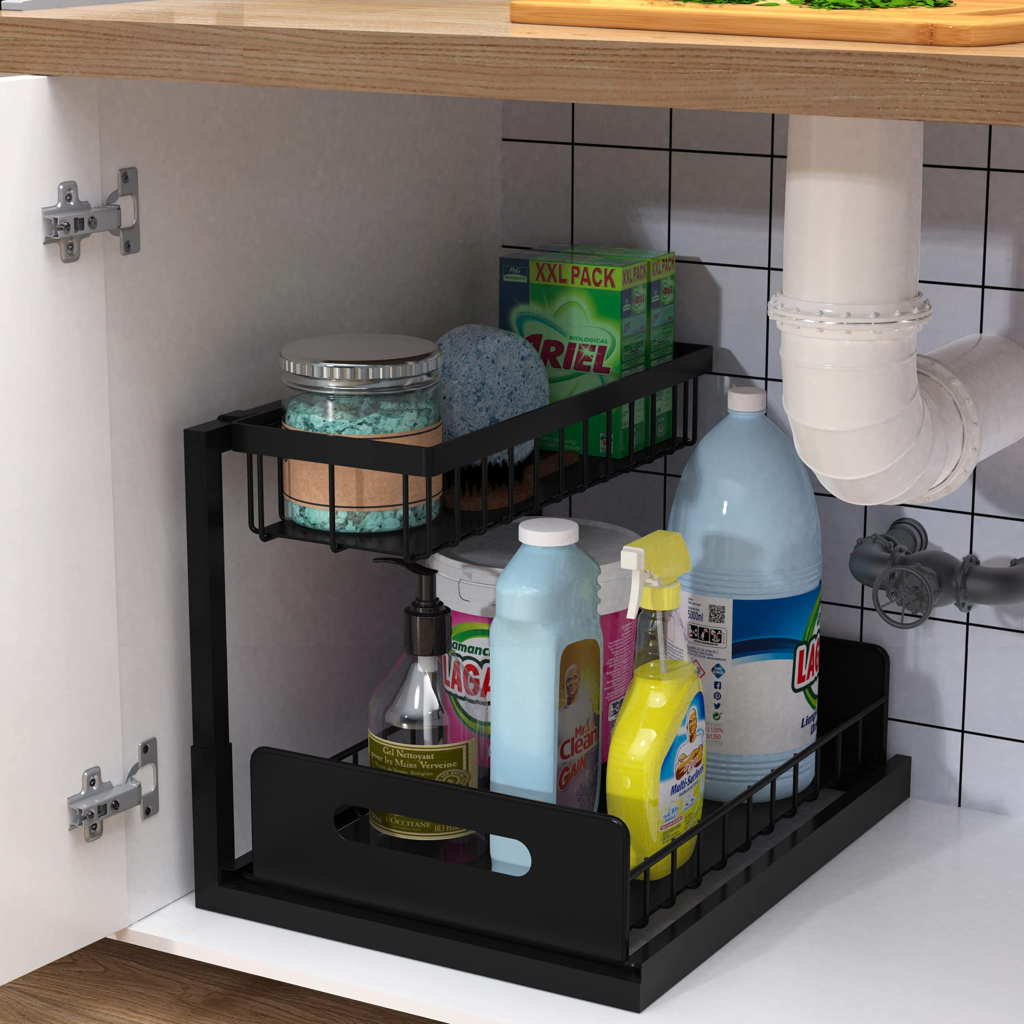 Caddy organizers come in different sizes. They have different compartments which allow you to put various items in one place. Your shower items like body wash, shampoo, soap, and your loofah have a new & organized home. This caddy is also compact enough to fit under your bathroom sink. They come in different compartment designs and colors too.
You can also use caddy organizers to organize Feminine hygiene products. These products fall in the category of items that you can't afford to be in a clutter. It's important to have easy access to them when you need them the most. You can get a shower caddie from the dollar store or even supermarkets. It's perfect for keeping everything in one place! And they're super cheap and affordable too!
Put Things Away with Wire Baskets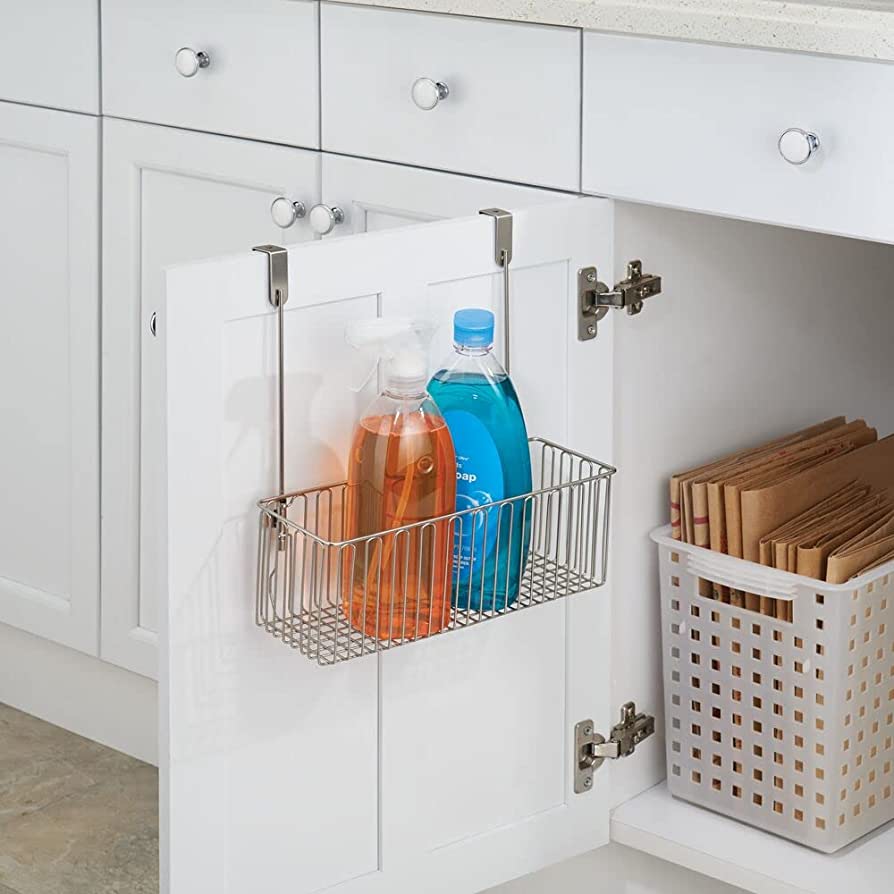 If you struggle to dig through cluttered makeup items, this hack is for you. Making good use of available space is crucial when organizing a small area. Such as the area under a bathroom sink.
Take the most advantage of unwanted space! You can do this by connecting wire baskets to the rear cabinet doors.
These baskets come in various shapes and sizes. This gives you the advantage to store objects of different sizes in various wire baskets.
These wire baskets function best with more compact cosmetics. Like powders, foundations, mascaras, and brushes.
Use PVC Pipes To Stow Away Your Hair tools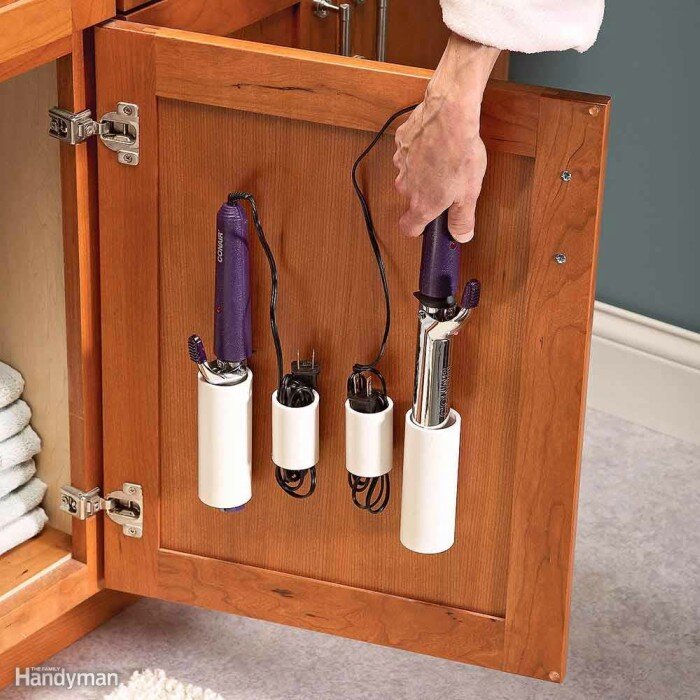 It can be difficult to locate a location for and organize your curling iron, flat iron, etcetera, etcetera. No matter how hard you try from keeping them untangled, the wires still seem to get tangled and flop. Using PVC pipes, you can arrange both the cords and your hair styling products. This hack is a storage solution that will save you from the tangles, every single time!
All you need are PVC pipes, a tool, and some sticky hook and loop tape. Once you have all your supplies ready, cut the pipes to your desired length. Then use the hook-and-loop tape to attach the pipes to the rear of your bathroom vanity door. For a more polished appearance, you could paint the PVC pipes in any color you want. We recommend using spray or acrylic paints for smooth finishing and best results.
Use Cabinet Bars to Hang Your supplies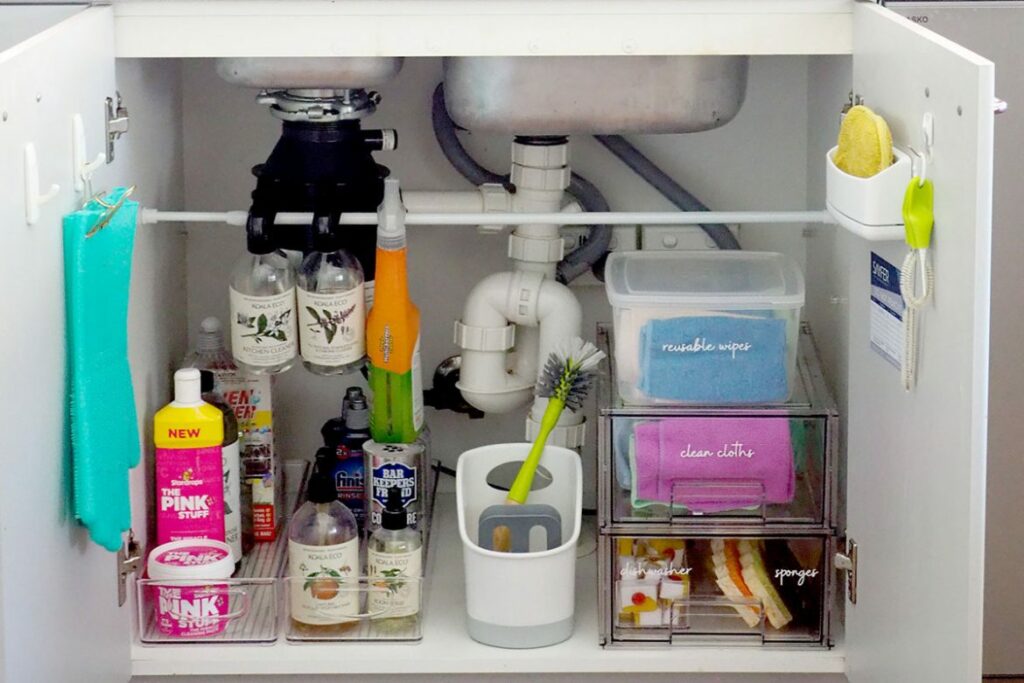 In order for an over-the-cabinet bar to be on the inside of your cabinet door, turn it around. Cabinet bars are super easy to install and they're affordable too. You can hang your most used bathroom cleaners there so you won't have to search for the one you need! Easy!
The cabinet bars are available in different sizes and some have even hooks attached to them assisting you in easy installation. You can hang one behind your bathroom door too. Stowing away your mops and squeegees in the most convenient way possible.
Upscale an Acrylic Spice Rack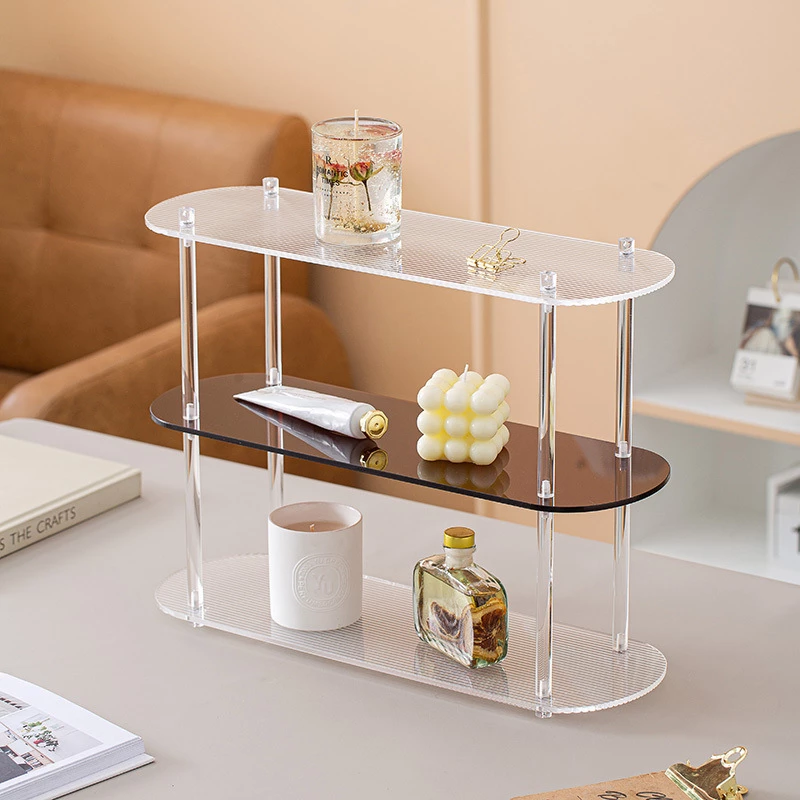 Sure spice racks look great and save a lot of space in your kitchen. But did you know you can also utilize them in your bathroom? Yup, let's do it!
Got an extra acrylic spice rack lying around that you are planning to discard or have never used? It's time to put it to use! For the bathroom, an acrylic spice rack is a fantastic organization choice! You can use the acrylic spice rack to carry sponges, cosmetics, nail polish, and more!
Acrylic spice racks come in so many different varieties and some are very stylish too! Just place one on the back of your cabinet door and fill it up with whatever toiletries you want or use regularly. The acrylic case will also make it easier for you to identify the items while making your place appear tidier.
Storage Baskets are Your Best Friends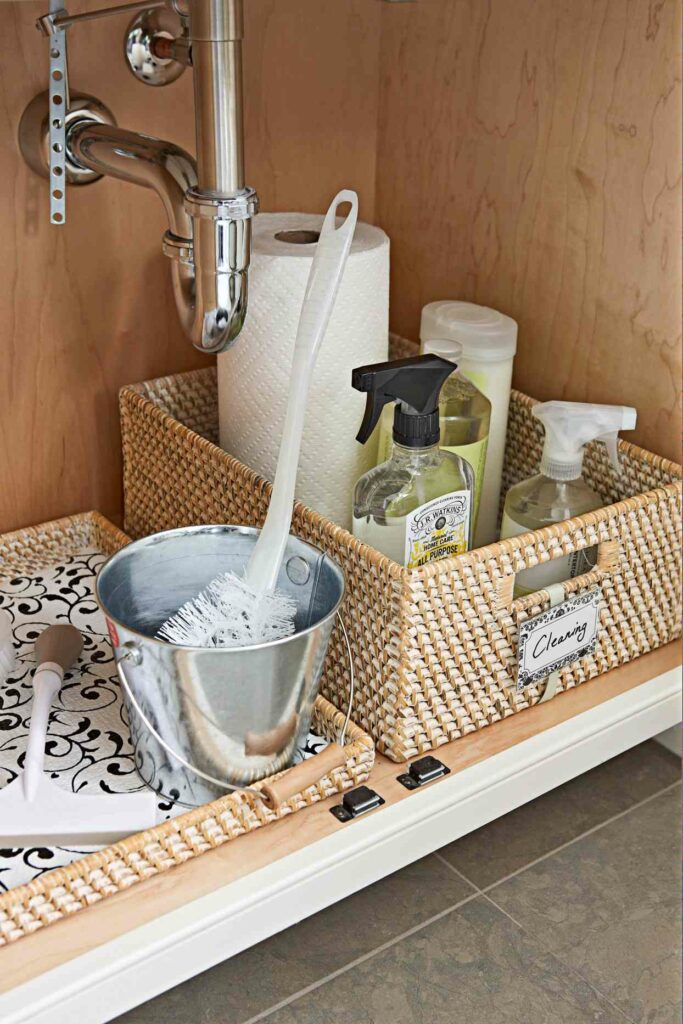 You can organize a lot of your heavy-duty stuff in your bathroom under the sink by using simple baskets. Items like cleaning products or big soap refill bottles fit great in them! The best part is that they come in a variety of colors and sizes. Just stop by your local supermarket or at the dollar store. You can find them anywhere!
Tip: You can add labels to the baskets. This can make it easy for your family to locate the towels, washcloths, and amenities. This will also make it easier for anyone who is visiting! Not to mention that the creative labels will make the place look super aesthetic!
Storage baskets are not only a great deal when it comes to organizing on a budget. They also let you save space by letting you keep a lot of things in one place. For cheap!
Conclusion
Mornings can be a little hectic enough as it is. After reading these ideas, you're all set to arrange under the bathroom sink permanently. These ideas will definitely help you if you can't find that new conditioner bottle you just used and put away. Or if you're getting ready and your makeup brush seems to have disappeared into thin air from your sink drawer.
The best thing about these organizational ideas is that they are not only budget-friendly. But will also save you a lot of time while you get dressed. No more rummaging around a messy cabinet!
We hope that these tips will get you motivated for getting your under-sink space organized. Once and for all!