Leave a Comment / Cleaning / By HT2
The cabinet beneath the kitchen sink is a place that even the most organized people struggle with. Despite our greatest efforts, this location always ends up being a cluttered disaster. It's one of the kitchen's most often utilized cupboards. This is why keeping it tidy and organized can be quite frustrating at times.
We are about to give you some life-changing tips and tricks on how to organize under the kitchen sink. So you can keep this awkward space neat and orderly. Read on to find our picks for the best under- the kitchen sink storage solutions!
And without further ado, let's get right into it!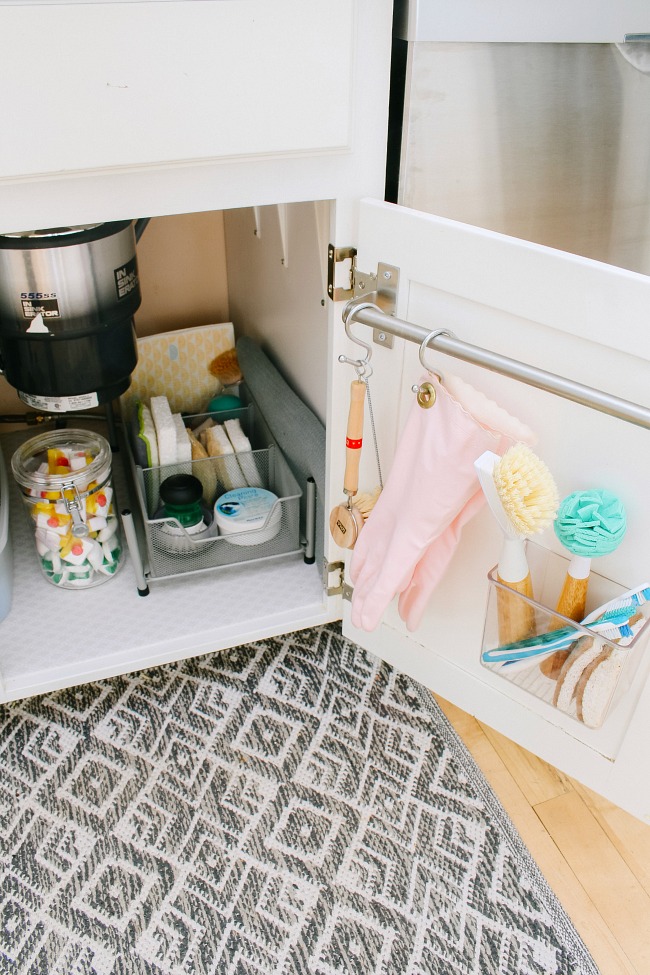 How to Organize Under the Kitchen Sink
At VKAX, we understand that no one likes organizing under the kitchen sink. With time you can lose motivation to organize the under-kitchen sink cabinet repeatedly.
Before you get into the organizing game, we have listed out some steps. These steps will ensure that you're off to a great start to tackle that under the kitchen cabinet once and for all.
GET INSPIRED!
Step 1: Clean Everything Out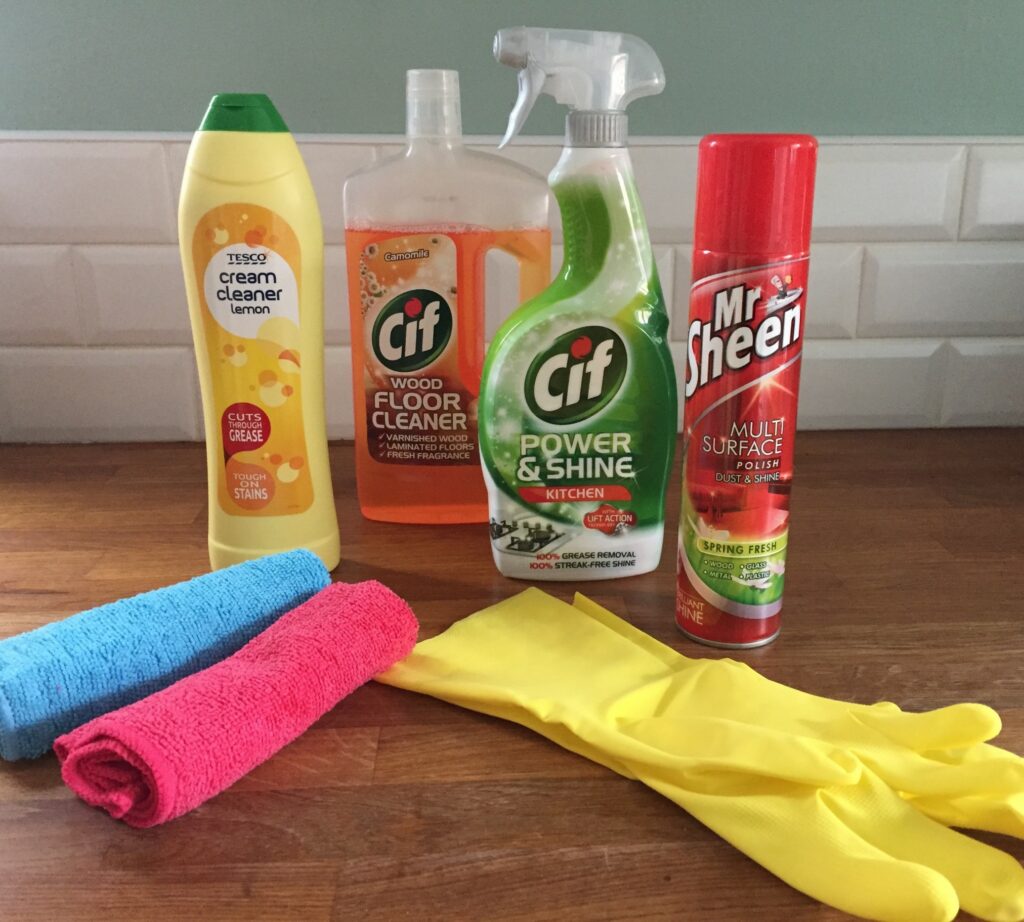 To get started with organizing your under the kitchen sink cabinet, first empty it out.
This process will surprise you with things you forgot about. But will also create a clean canvas to start the organization process.
Step 2: Wipe Off any Residue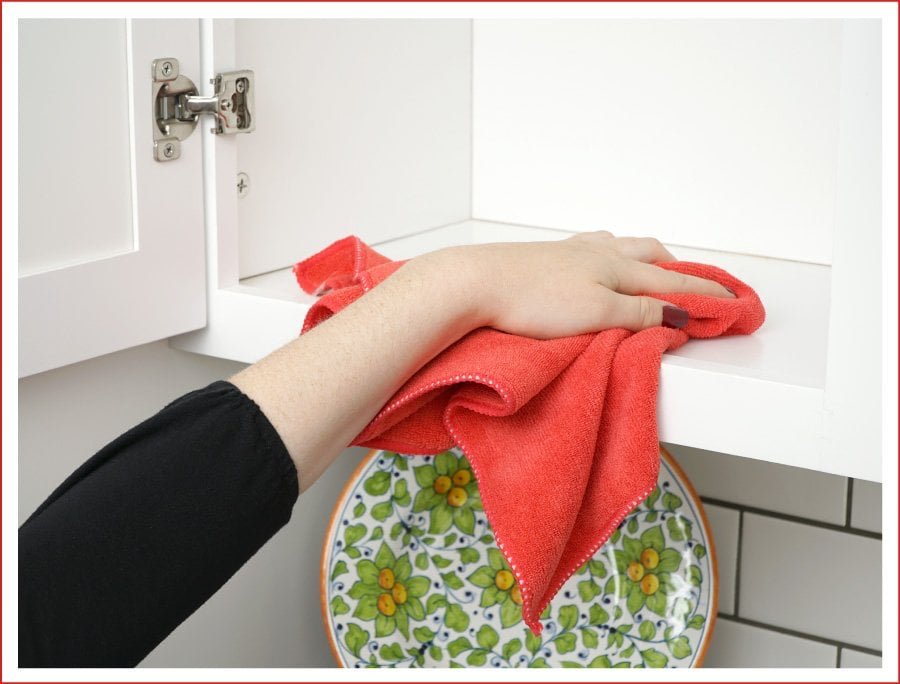 This step will give your under the kitchen sink cabinet base a clean and fresh start. Use a sponge or a wet microfiber cloth to wipe off any residue. As this area is prone to spillage and leakage.
Repeat this step if there is any excess residue. For crumbs and wooden chippings, you can simply vacuum them off.
Step 3: Line Your Products and Sort them Out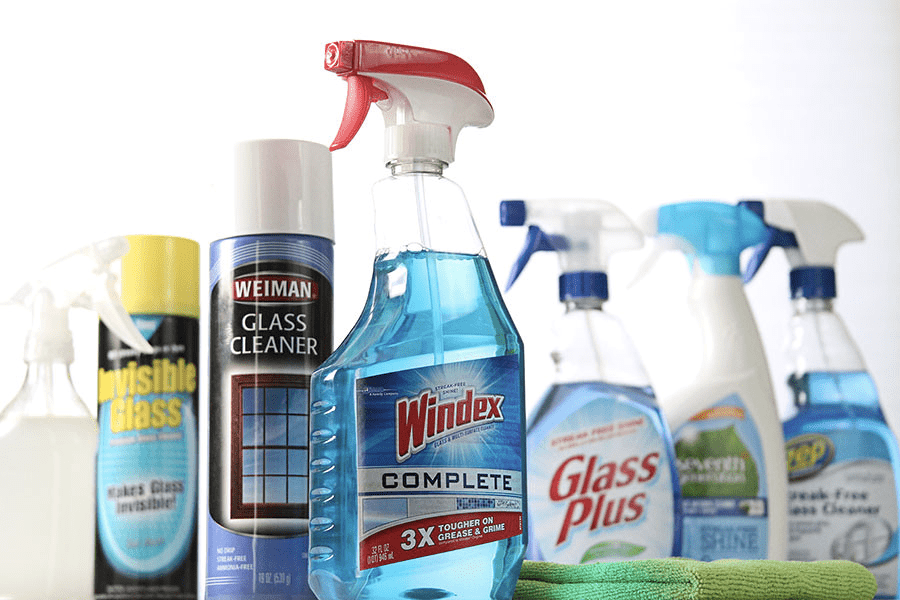 Things often become difficult to view, remove, and use when they are buried in a deep, gloomy cabinet. Sometimes they get buried so deep that you forget about them. And end up spending more money in buying their duplicates.
Maybe you forgot about things you intended to use, or stopped using them altogether. This is why taking your products out and sorting them out is a very important thing to do. Before you start organizing them in your under the kitchen sink cabinet.
How to Organize Under the Kitchen Sink – Storage and Organization
Line Your Under the Sink Cabinet with a Plastic Mat or Synthetic Liner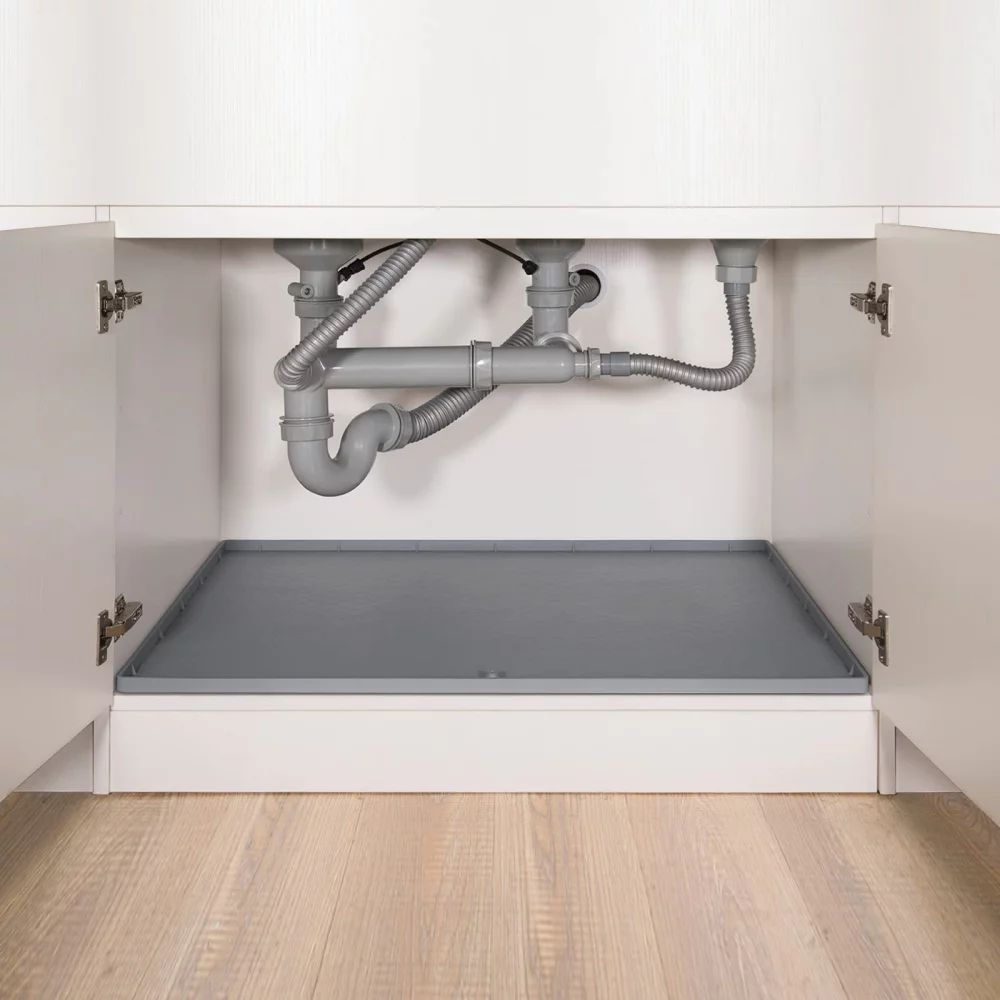 After you've finished cleaning and vacuuming the base and the insides of your under the kitchen sink, it's time for the lining. Take any plastic or synthetic liner and cut it according to the measurement of the base of your cabinet.
This will ensure that the actual floor of your kitchen sink cabinet stays clear of any spills and sprays. The liner will catch any residue from a leaked bottle or that got spilled by accident. If that happens, changing the liner is easy and simple. The base of your kitchen cabinet stays clean.
Use Baskets that have Layers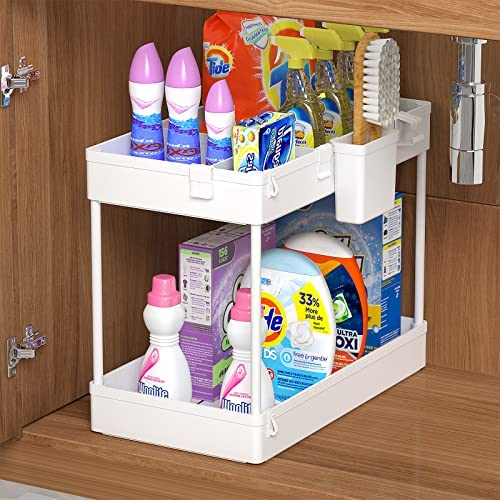 A great way to fit a lot of items under your kitchen sink is by using layered baskets. This will ensure that your items are organized while saving you space too. Go for long layered baskets so you can fit them in the cabinet, putting them in a vertical.
Items like hand soaps, dish soaps, disinfectant spray bottles and insect killers will fit in these baskets .
Install Hooks and Over head Bars
Hangers, hooks or overhead bars are a great way to stow away any spray bottles. You can upscale any cloth hangers you have that fit your cabinet or you can get hanging bars. There are alsoUse a hook attachment and hang the bar and viola! You've now got extra space to organize your spray bottles.
Tip: Make sure you measure the width and length of your under the kitchen sink cabinet before installing the hangers or overhead bars. They come in many different shapes and sizes. So, to get the exact product for your cabinet door measurement this step is very crucial.
Get Stackable Baskets with Drawers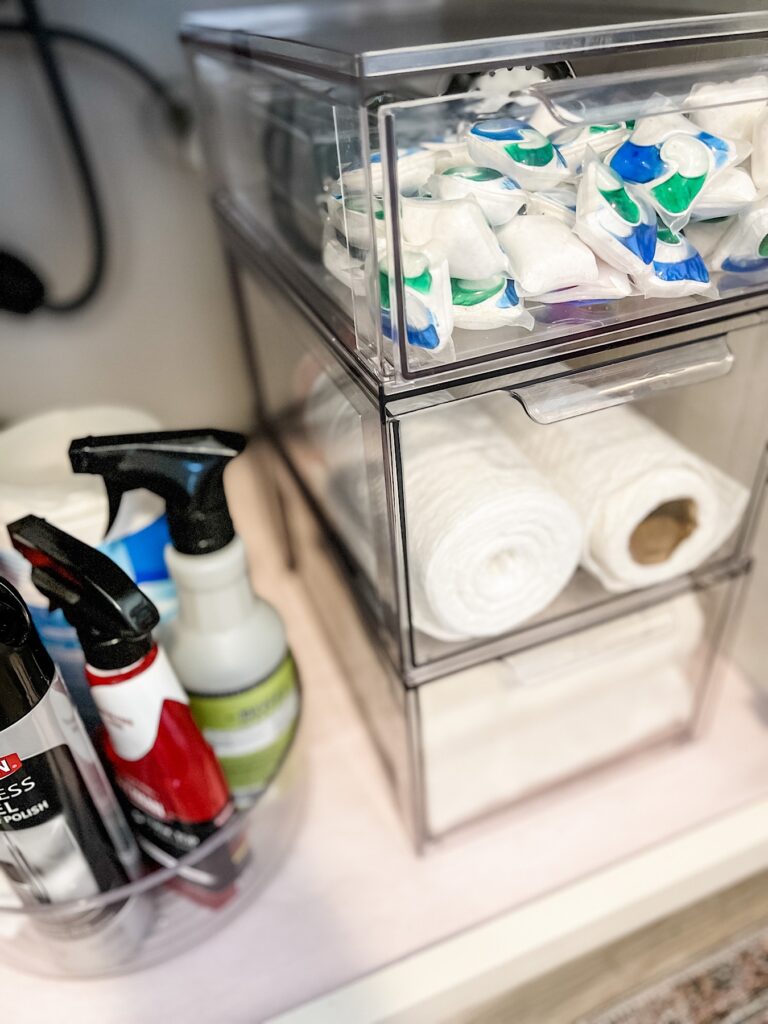 Stackable baskets with drawers are a great way to organize under the kitchen sink spaces. Tissue rolls, kitchen towels, soaps and microfiber cloths fit perfectly in the drawers. You can also place your dishwasher pods, and sponges.
Tip: Use clear baskets and drawers to stack up your items. This will allow you to see exactly which product is in there and how much quantity you're left with.
Get Over-the-Cabinet Door Organizer Baskets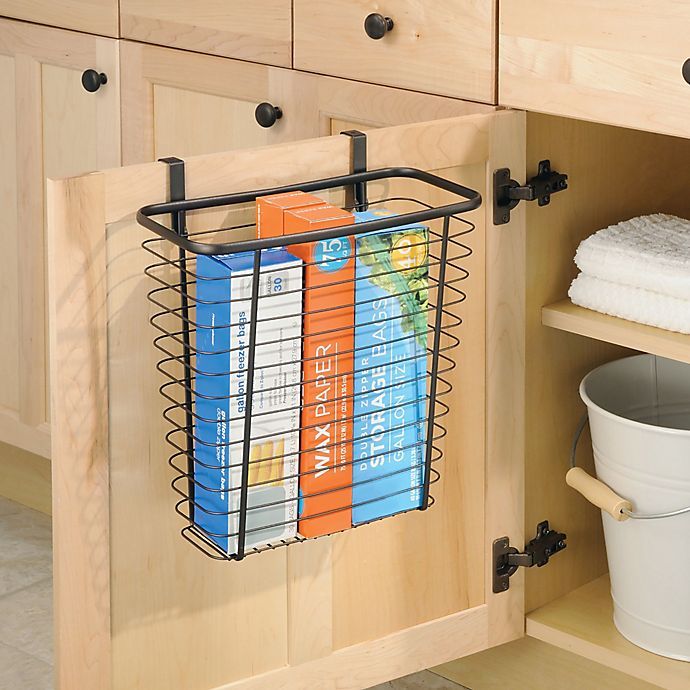 Another great way to free up space in your cabinet is to get over the cabinet door organizer basket. This is great for stacking plastic bags. You can keep up to 50 plastic shopping bags in one handy location. Without taking up too much room.
They work great on cabinet doors' inside or even exteriors. Your call!
Use Shelf Risers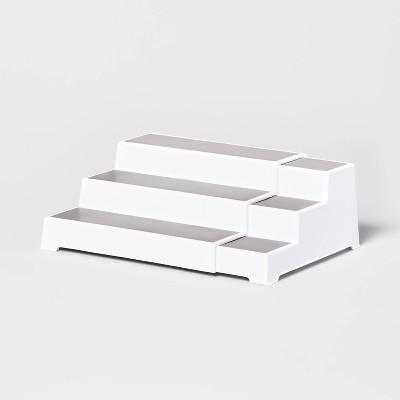 Shelf risers are minimal and allow you to stack household and cleaning products. They are the easiest to install and require no hardware expertise.
With shelf risers, you can utilize wasted vertical space. By simply placing them within your cabinet and stacking goods on top. And even underneath them.
Install Rolling Caddie Baskets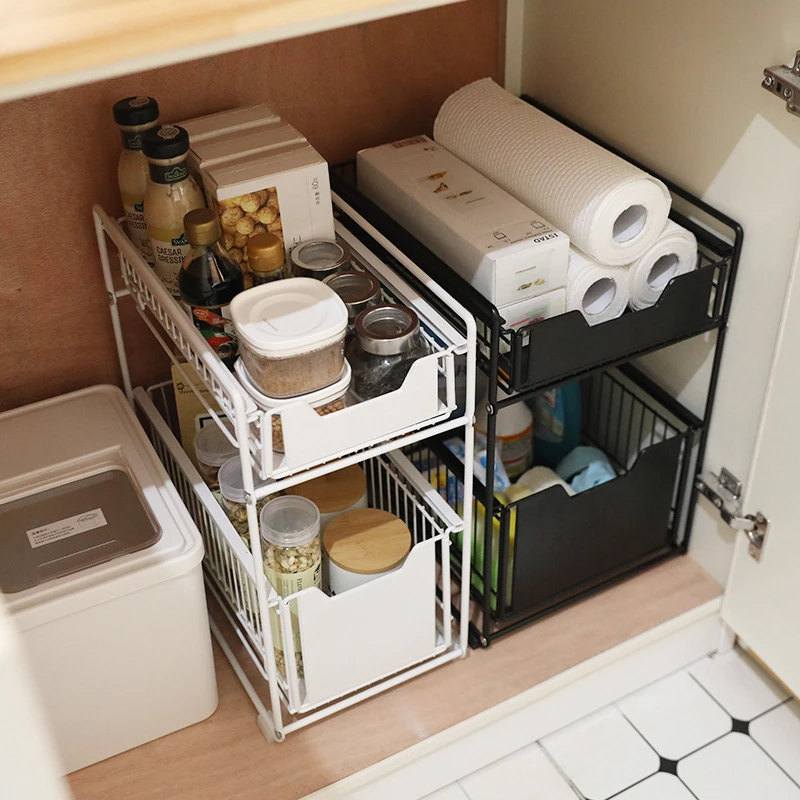 Try a stylish caddy if you want a compact organizer that isn't on rails. You may easily roll it out on its back wheels to reach items in the cabinet's back or pick it up by the handles to move it.
They are quite efficient to use. Just place your items on the rolling caddy and slide it back once you're done!
Conclusion
Despite the fact that your sink is little and all you can see when you open your cabinets are pipes. There's definitely more to it. It is valuable real estate that can accommodate a wide range of items. Including towels, cleaning equipment, cleaning materials, and the list goes on.
Now you have all the knowledge about how to tackle your under the kitchen cabinets in an easy and effective way. The storage items mentioned above are generally inexpensive and require minimum installation skills. Just pop in one of your handy dandy supermarkets or household stores. And get your hands on them!
Happy Organizing Folks!