When growing plants indoors, mimicking the influence of sunshine is typically the most complex challenge. Sodium, fluorescent, and HID bulbs produce too much heat and require considerable electricity. However, LEDs might be the alternate solution in this case. Hence, selecting appropriate LED grow light manufacturers is crucial.
However, LED grow light is a significant component of LED Lighting. It's a unique lighting system that helps a plant develop by emulating the sun's light spectrum. LED grow light efficiently increases indoor gardening, horticulture, indoor hydroponics, food production, and aquatic planting.
There are many LED grow Light manufacturers available. The list below will help you answer the essential questions while picking the best LED grow light for your growing environment.
Popular LED grow light Manufacturers
The following list contains LED grow light manufacturers among the world's major LED manufacturing nations. Each description will cover the company's profile, planned fields, and top LED grow lighting goods.

TCP Lighting
With more than 20 years of lighting expertise, TCP Lighting proudly serves its clients as one of the top LED grow light Manufacturers in the united states. You may locate TCP Lighting's main office at 325 Campus Drive, Aurora, OH, 44202, USA.
TCP's extensive product portfolio includes CFL and LED ENERGY STAR certified bulbs, and DesignLights Consortium accredited fixtures. TCP is an active member of numerous professional lighting organizations.
RHLR4UZDA2VG and RHLR2UZDA1VG are the most popular LED grow lights from TCP Lighting Production.
California Lightworks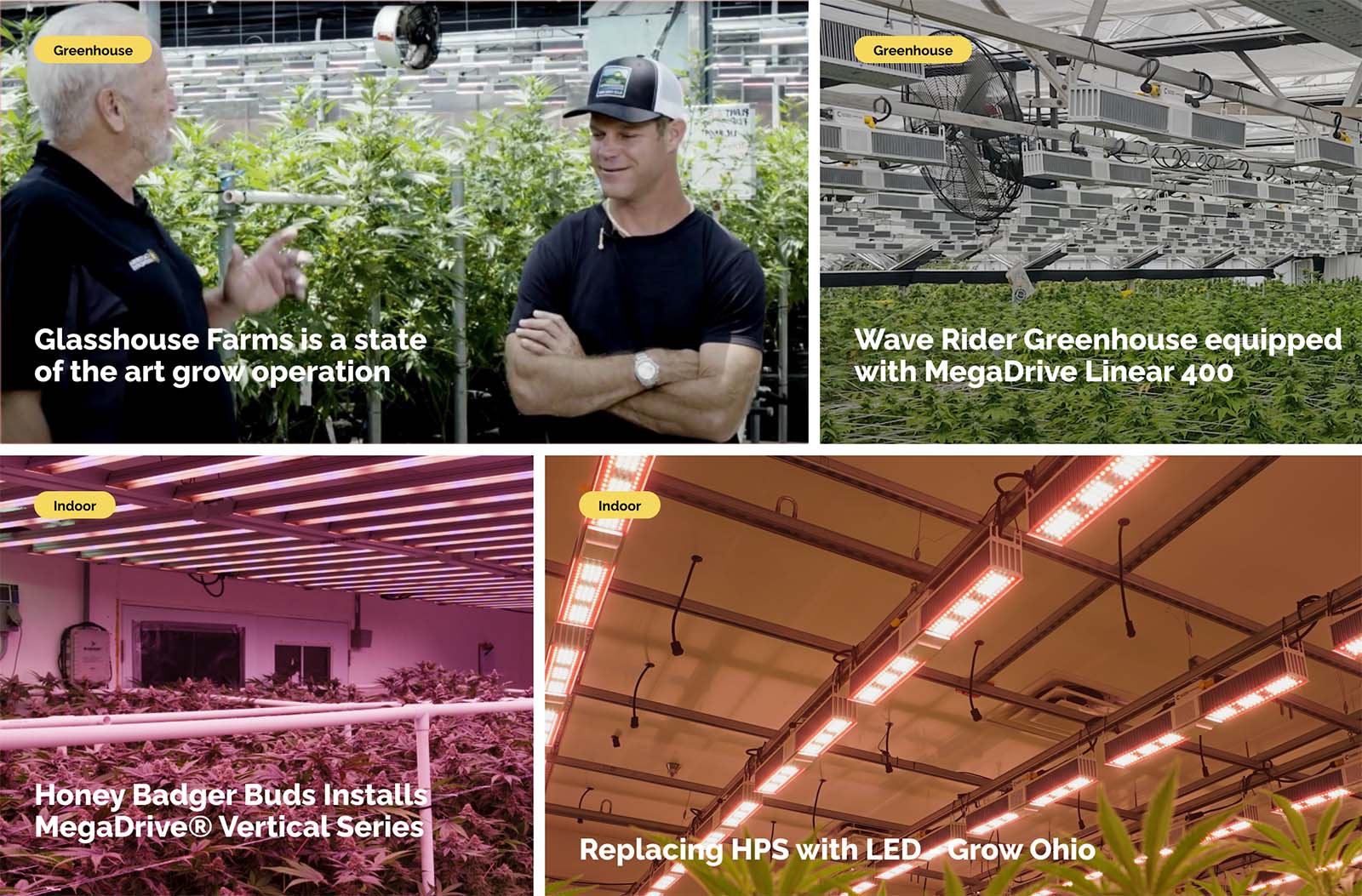 Located at 7949 Deering Ave, Canoga Park, CA 91304, USA, California Lightworks also specializes in making LED grow lights. This firm creates everything from LED boards to Enclosures, Controls, and final assembly at their facilities.
California Lightworks delivers excellent customer service and industry-leading warranties on their commercial grow lights.
MegaDrive vertical and liner series, Solar system series, and solar Xtreme series are popular LED grow Light categories you will discover from this manufacturer. However, these LED grow lights are suitable for greenhouse, indoor and vertical applications.
KIND LED Grow Lights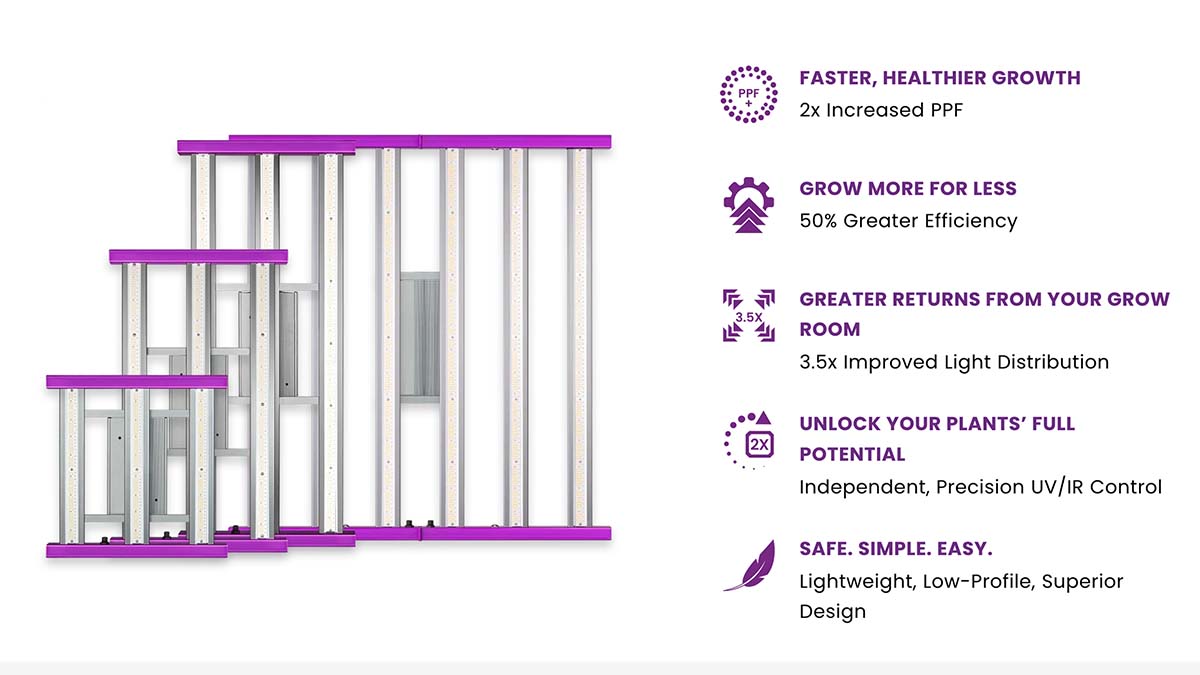 Since 2014, KIND LED has been producing LED grow lights at PO Box 6105, Santa Rosa, CA 95406, USA. A group of age-old farmers created this firm using classic High-Intensity Discharge lighting to achieve outstanding yields and top-quality outcomes harvest after harvest for decades.
Since 2014, Kind LED has been the market leader as the full spectrum grow lamp manufacturer. Hundreds of medical specialists authorized this grow lamp manufacturer's research and development initiatives.
This LED grow light manufacturer's most popular products are the X2, X Series LED Grow Lights, Commercial Fixtures, X bar lights, and accessories.
MIGRO Light
MIGRO Light is also one of Ireland's most prominent LED grows light manufacturers, located at 107 Millennium Business Park, Cappagh Road, Dublin D11 E096, Ireland. Shane Torpey, the company's creator, founded MIGRO Light in 2015.
This LED grow light company only utilizes the finest components and offers incredible warranties and customer service. As a result of these factors, their LED Grow lights are more costly than other LED Grow lights.
This manufacturer's most popular LED Grow lights are the MIGRO Array 2-12. This manufacturer also manufactures other brands such as Grow Light Science, Innoquest, and Maxsisun.
Valoya Oy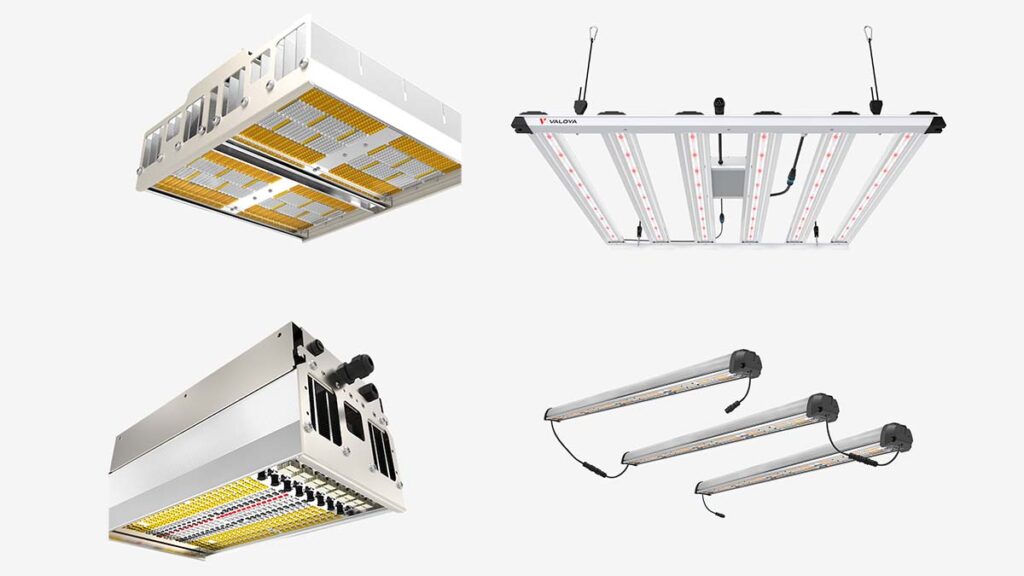 Valoya is also Finland's leading spectrum LED grow light wholesale producer, headquartered in Melkonkatu 26, 00210 Helsinki, Finland. The LED grow lights factory began operations in Finland in 2009 and today employs people in Finland, the Netherlands, Germany, and the United States.
Since 2009, this commercial LED grow light manufacturer has produced one of the top LED grow lights. They are primarily interested in plant biology and developing the most significant possible spectra for optimum plant growth.
This LED grow light company's LED Solutions include the L, C, BX, BL, RX – Series, Light DNA, Spectra, Brochures, and Guides. Crop research, medicinal plants, vertical farming, ornamentals, and algae production benefit from Valoya LED grow lights.
R&C Lighting
R&C Lighting, one of China's top LED grow light manufacturers, is located in No. 19 Gaoxin East Road, National High-tech Zone, Guangdong, China. Since its inception in 2013, RC Lighting, which is ISO9001 certified, has been recognized for its high-quality indoor and outdoor lighting products.
This firm obtained CE, RoHS, and UL/ETL certifications. Their staff comprises highly qualified engineers who will provide you with the best possible experience. R&C Lighting designs and manufactures both indoor and outdoor Lighting.
Olympia Lighting
Olympia Lighting, situated at 148 Veterans Drive, Northvale, NJ 07647, USA, has more than 20 years of expertise serving its consumers as one of the USA's leading LED grow light manufacturers. Their LED lights are of the greatest quality, made with the highest-grade LEDs for optimal efficiency and endurance.
Olympia Lighting products are reasonably priced and suit current business fixtures nicely. They do, however, provide LED replacement bulbs for HID lights ranging from 50W to 2,000W.
Olympia Lighting Indoor LED Grow Lights are Full Spectrum Indoor LED Grow Lights for Vegging and Budding Stages appropriately balanced. This manufacturer's most popular models are CL-250W12-BFS-E39 and CL-300W12-BFS-E39.
AIS LED Light
Since 1998, AIS LED Light has served its clients in No.6 JinHai Road in Shanghai, China. The objective of AIS is to be the world's leading provider of innovative, eco-friendly, high-quality LED lighting to the commercial, institutional, and utility industries.
AIS LED Light's Plants LED grow lights are unique among all the LED lights. AIS LED light manufactures LED Grow lights ranging in power from 10 to 2000 watts.
The most popular LED grow lights from AIS Production are dimmable 9w/18w/27w, Full Spectrum 600w 1000w with UV/IR, UFO Blue Red 50W, and Veg & Bloom Double Switch full spectrum 600w 900w 1200w with UV/IR.
Yaham Lighting
Yaham Lighting has manufactured LED lights and accessories for over 18 years in YAHAM Industrial Park, 118 Yongfu Rd, Bao'an, Shenzhen, P.R.China. This company has been certified by CCC, CQC, CE, RoHS, C-tick, ETL, and PSE.
The most frequent kind made by Yaham Lighting is Biosun L/O/D LED Grow Lights.
Yaham has established itself as a leader in the design and manufacture of LED Industrial Lighting, including LED High Bay Lights, Linear High Bay Lights, Floodlights, Billboard Lights, Tunnel Lights, Street Lights, Downlights, and Spotlights.
BELL Lighting
BELL Lighting has been producing lights for almost 100 years and is located at Unit A, Foxbridge Way, Normanton Industrial Estate, Normanton, West Yorkshire, UK WF6 1TN. Since 1920, the plant has specialized in producing one-of-a-kind incandescent ornamental light sources.
BELL Lighting's notable LED grow lights include the Luna GU10 and Retro Vintage Rope. Furthermore, BELL Lighting maintains an ample supply of various fittings, lamps, and emergency lighting products.